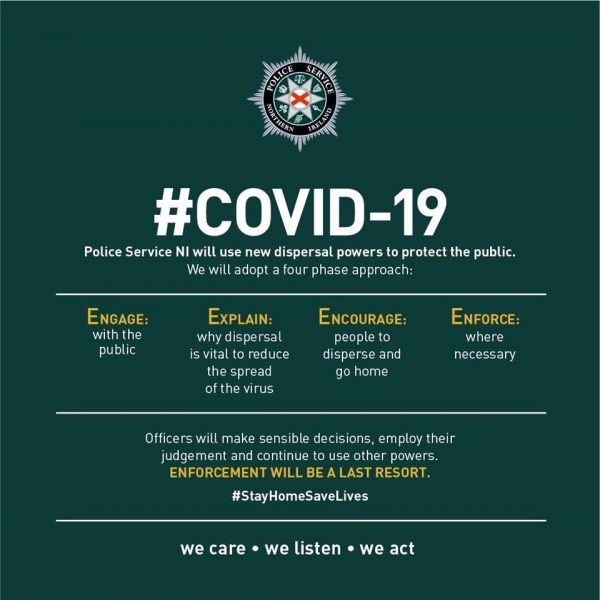 NEW powers to enforce guidelines on people staying at home and businesses staying closed have come into force in Northern Ireland.
The regulations were published by the NI Executive on Saturday, March 28, at 11 pm.
They include the ability to force businesses to shut and crack down on people who leave their homes without a "reasonable excuse".
Penalties, ranging from fixed penalty notices to fines of up to £5,000, are being introduced as enforcement.
The maximum fine will be reserved for businesses but people could face a maximum fine of £960 if they do not comply.
Off licences have also been added to the list of essential businesses and can now stay open.
Police in Derry say: "Your actions can either cost or save a life.
"Police will disperse gatherings and enforce social distancing.
"We ask that you stay at home, consider your own health and the health of others."
The new regulations bring the North of Ireland into line with the rest of the UK.
The regulations say that reasonable excuses to leave the home include to obtain necessities, such as food and medicine; exercise; to seek medical help; to provide care or assistance to a vulnerable person; to donate blood; and to travel for work, where it is not possible for that person to work from home.
These are consistent with previously announced guidelines, with Justice Minister Naomi Long saying the new regulations are "not a new direction in terms of what people should and shouldn't do".
First Minister Arlene Foster described the powers as "extraordinary" but said "we are living in extraordinary times".
S"We are asking the people of Northern Ireland to make fundamental changes to how they live their lives," said Mrs Foster.
"But we are doing this to keep you safe, to flatten the curve of the Covid-19 infection so that the health service has the capacity to deal with those who need their help the most."
The first minister said the executive knows "the enormity" of what they are asking of the public.
Deputy First Minister Michelle O'Neill said "protecting the public, supporting the health service and saving lives" were the executive's priorities.
"Each one of us has a personal responsibility to do everything we can to fight back against Covid-19 for the good of everyone across society," she said.
"We will use every power we have to ensure people stay at home so that we save as many lives as we possibly can."
Tags: