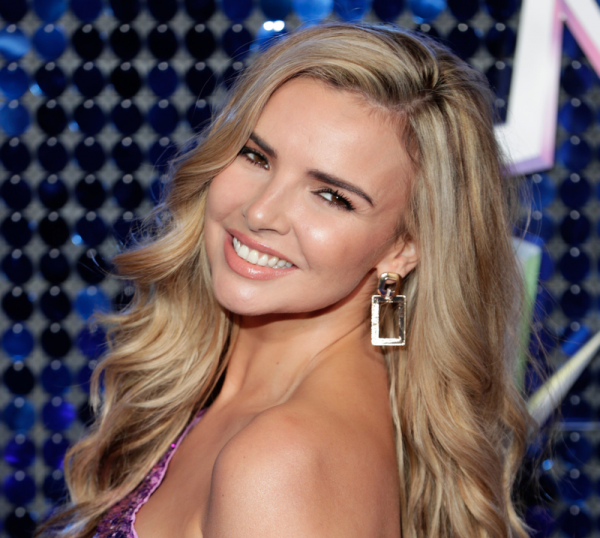 FORMER Girls Aloud singer Nadine Coyle has revealed how she dreamed of a career as a nanny before finding fame with the chart-topping pop band and believes being a mum is her most important role.
In an interview with OK! magazine ahead of Mother's Day tomorrow, the Derry popstar (34) also refused to rule out a Girls Aloud reunion.
Nadine, who is mum to six-year-old Anaiya, said: "Being a mum is the most important role in my life, Anaiya is just like me when I was her age."
Last year Nadine finished in fifth place on I'm A Celebrity… Get Me Out Of Here! and has also released a new single, All That I Know.
When asked if she was always meant to be a mum, Nadine said: "Definitely. Before I was in Girls Aloud, I wanted to be a nanny.
"But then Girls Aloud started and that ruined that dream!"
She spoke of how she hopes Anaiya might one day follow in her musical footsteps.
"She says she'd like to be a singer when she's older and I can see her being an opera singer as she has an operatic voice."
Nadine also appeared to rule out a sibling for her daughter.
"Right after I had Anaiya, I definitely wanted more kids. I was like: 'I think I could do this professionally'. Because I loved being pregnant so much.
"I used to love watching that programme 19 Kids And Counting and I thought I might just keep going and have 19 kids myself.
"I had these big plans to home-school them all and I even wanted to be a surrogate as well.
"But then the reality set in after being up all night, and I was like: 'Okay, maybe not 19'."
Last September Nadine and boyfriend Jason Bell announced their split after 11 years together.
She and the American football star, who is Anaiya's father, reportedly ended their relationship after they realised they were leading increasingly separate lives.
Nadine started dating Bell (41) in 2008 when she moved to America to pursue her singing career.
The pair were briefly engaged between 2010 and 2011, but split for a short period before reuniting in 2013 and later welcoming Anaiya in early 2014.
Despite the split Nadine says the pair still have a great relationship.
"It's really good. Co-parenting is working really well for us as we always put Anaiya first.
"Jason moved over here, too, when I moved back from LA, and he lives up the road.
"We still do lots of things together, we even go away together.
"Our relationship evolved into a friendship, but he's definitely part of the family and always will be," she added.
While remaining tight-lipped on whether she is dating anyone at the moment, Nadine has ruled out walking down the aisle in the future.
"I have been on Tinder in the past. I was trying to get some of my single girlfriends to go on it and they were like: 'Why don't you do it'? So I did and it was quite fun. I ended up arranging to meet this guy who was a model," she said.
"I thought I was being catfished and he couldn't possibly be the guy in his pictures, but it was him.
"We went on one date, but nothing came of it.
"I like somebody who makes me do things that I wouldn't do myself and takes me out of my comfort zone.
"They don't have to be in the industry either. I like a guy who does a nine-to-five job.
"I have never really been into marriage, I just don't want to do it. I find it really cheesy and cringe, so I'd have to be forced into it!
"I have been engaged, but the thought of planning a wedding or walking down an aisle [pulls a face]."
While a wedding might be off the cards, Nadine hinted at a possible reunion with her former Girls Aloud bandmates in 2022 for their 20th anniversary.
"It's been seven years since the last reunion tour and it feels like seven years!" she said.
"It's always been really fun and we've always had a really good time, but there would have to be a lot of organising to get us all back together. It would take a lot of work."
Tags: