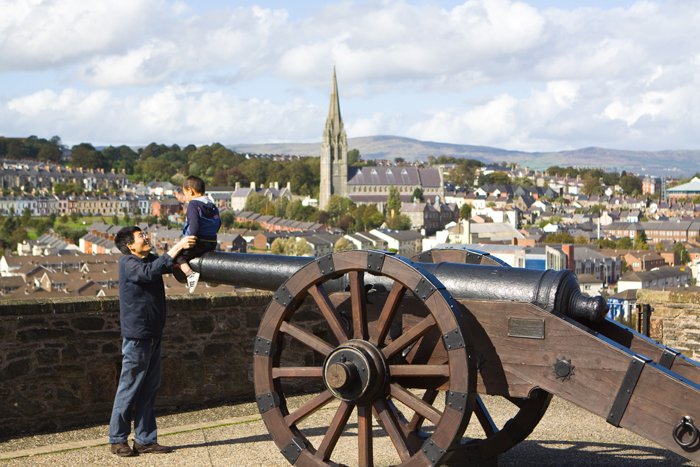 THE Mayor of Derry and Strabane has congratulated all those working in the local tourism industry on the fantastic feedback from visitors in the latest survey results by Tourism NI.
Councillor Michaela Boyle said she wasn't surprised by the findings of the latest Visitor Attitude Survey which indicate that an impressive 98% of those surveyed believed that the Derry City and Strabane Council area met or exceeded expectations.
The survey of leisure visitors revealed that exploring history and culture was one of the primary draws to the historic city and the range of interesting things to see and do in the area was rated positively by visitors, scoring 8.50 (out of ten).
The most popular attractions were the Derry Walls, Tower Museum and the Guildhall.
Councillor Boyle praised local industry professionals and local people for providing an exceptional welcome for visitors.
"I think this feedback highlights what we all know – that Derry and Strabane are fantastic places to visit, and we're renowned the world over for warmth and hospitality," she declared.
"It's a great endorsement from those who have enjoyed the experience and a great message of confidence for anyone considering a visit.
"Council and its partners have been working hard to build the profile of the North West as an exciting visitor destination.
"As we look forward now to our summer season with the return of the Jazz Festival and the Foyle Maritime Festival we will be welcoming tens of thousands of visitors to the North West.
"They can all be assured of an experience that's second to none – well done to everyone for this wonderful achievement."
Accommodation across Derry and Strabane also scored highly with the quality of facilities and friendliness service scoring strongly.
Visitors reported that the quality of food and drink was well received, scoring 8.18, while the friendliness of staff at eating establishments earned an impressive score of 8.83.
Launching the survey results, Economy Minister Diane Dodds, MLA, said: "The tourism sector within Northern Ireland is in a strong position, as these survey results demonstrate.
"Our friendly welcome, along with excellent attractions, food, customer service and accommodation continues to win fans both at home and abroad.
"As Economy Minister I intend to build on the good work being done by continuing to develop local tourism as an export business, helping to contribute to balanced regional growth and job creation."
Tourism NI's Chief Executive, John McGrillen said: "These results are a boost for the local industry as Derry City & Strabane's unique visitor attractions clearly resonate with visitors.
"It was also a consistent theme across Northern Ireland that our people greatly enhance the visitor experience.
"The welcome that people receive in our hotels, guesthouses, pubs, taxis, restaurants, cafes and shops also helps to ensure that people who come here to visit want to return or to advise others to visit and experience Northern Ireland for themselves."
For more information about the Visitor Attitude Survey, please visit https://tourismni.com/facts-and-figures/visitor-attitude-surveys
Tags: