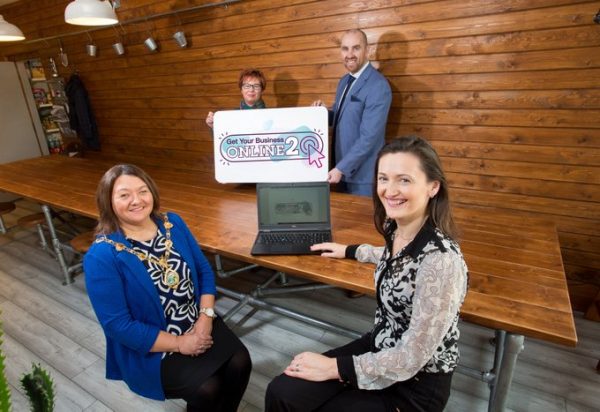 AFTER the huge success of the first phase of the Get Your Business Online programme, Strabane businesses are being encouraged to participate in the second phase of the programme to further assist their companies to step up their online presence.
The new programme, which is funded by the Department for Communities aims to help entrepreneurs 'tell their story' by informing people about their products and services and reinforcing their brand through the online market.
The first phase of the project was a huge success with participants from a range of sectors including interior design, fitness, fashion design, food and entertainment as well as beauty and well-being, taking part.
To help build the momentum of the programme, the second phase is being launched to encourage more businesses to attend a series of bespoke information sessions and workshops that are taking place early next year to assist develop their online presence.
The workshops, all to be held in the evenings to facilitate those who work full time during the day, will take place between 6 and 9pm at Strabane Library and will include information sessions on video promotion, social media and google analytics.
Encouraging companies to sign up, Sinead Lynch business support officer with Derry City and Strabane District Council said it was a fantastic opportunity for Strabane businesses to learn from the experts about how to boost their marketing potential.
She said: "This is a brilliant chance for more traditional businesses to learn more about the operation and value of promoting themselves online.
"The internet is such a powerful tool so making the most of the resources on offer is vital in ensuring that you are getting the maximum out of your business.
"The Council is committed to giving local businesses the best chance at continuing success, and, with the assistance of the Department for Communities, the 'Get Your Business Online' programme is indicative of that, and I would encourage any businesses who feel they would benefit from the workshops and mentoring to get involved."
Brian O'Neill from Enterprise North West said: "Increasingly the online marketing space is becoming more competitive, local businesses need to take advantage of every opportunity to maximise their online marketing presence to attract as many customers as possible.
"The most efficient way of doing this is to implement a highly effective online marketing strategy.
"The content of the Get Your Business Online 2 workshops will support local businesses to achieve this."
The 'Get Your Business Online' programme provides the right help and guidance for those businesses who are new to the digital world.
Phase I was funded by Strabane Town Forum and Strabane BID company was delivered throughout October and November.
Funding for Phase 2 has been secured from the Department for Communities and the programme is being delivered by Enterprise North West and is available to those businesses based in Strabane Town and surrounding areas.
To register your interest in the second phase of the 'Get Your Business Online' programme, please contact Sinead Lynch on sinead.lynch@derrystrabane.com or fill out the online form at http://instrabane.org/get-your-business-online/
Tags: