Aimee Brady from Magherafelt was placed on the heart transplant list in January of this year.
As the 11 year old needed 24/7 monitoring and medication by specialist doctors and nurses until she found a suitable donor, Aimee and her family had to stay in hospital over recent months.
The Clark Clinic at the Royal Victoria Hospital had been her family's home until she had her transplant operation at Newcastle's Freeman Hospital.
Aimee, her parents Steven and Valerie, older brother, Taylor, and the rest of the family had been living from day to day waiting on the call that a heart was available.
Sadly it wasn't to be.
Aimee passed away peacefully yesterday, Wednesday, October 9, surrounded by her loving and heartbroken family.
Aimee, a pupil at Spires Integrated Primary School in her home town, had undergone open-heart surgery three times after being born with the defect double inlet left ventricle with pulmonary atresia.
It was detected during her mum's 20-week scan.
She had the first op at the Royal Belfast Hospital for Sick Children just six days after being born in September 2008.
At 18 months she had a second operation, before travelling to Birmingham Children's Hospital for a third surgery at the age of five.
In 2015 Aimee was featured in a billboard campaign to raise awareness of congenital heart disease and the work of the Children's Heartbeat Trust.
And in June of this year she officially opened a new specialised unit aimed at helping children with heart defects.
Aimee cut the ribbon with Ireland rugby captain Rory Best at the Royal's Children's Hospital.
The Children's Heartbeat Trust has said Aimee will be remembered as "one of the bravest, funniest and sassiest girls we had the honour of knowing".
A spokesperson for the charity added: "She spent the last ten months of her life in Clark Clinic and latterly PICU (the children's Intensive Care Unit) waiting on a heart transplant but tragically never got the call she and her family so desperately needed.
"Always ready with a cheeky smile and joke, Aimee was a light in the lives of all who knew her and her impact has been felt further afield with well-wishers contacting her and her family from around the world.
"We will all miss her so much and send our deepest condolences to Valerie, Stephen, Taylor and their extended family on the loss of such an inspirational daughter, sister and heart hero.
"If you do one thing today in Aimee's memory please sign up to the organ donation register www.organdonationni.info and talk to your family about your wishes.
"The gift of organ donation really can make all the difference."
Many people have shared moving tributes to Aimee on social media praising "a beautiful little girl taken far too soon".
"Beautiful Aimee was the bravest and kindest little girl we know," one family friend wrote on Facebook.
Another tribute read: "What a fight Aimee had on her hands and she fought so bravely and stoically. She is a massive loss to our heart family.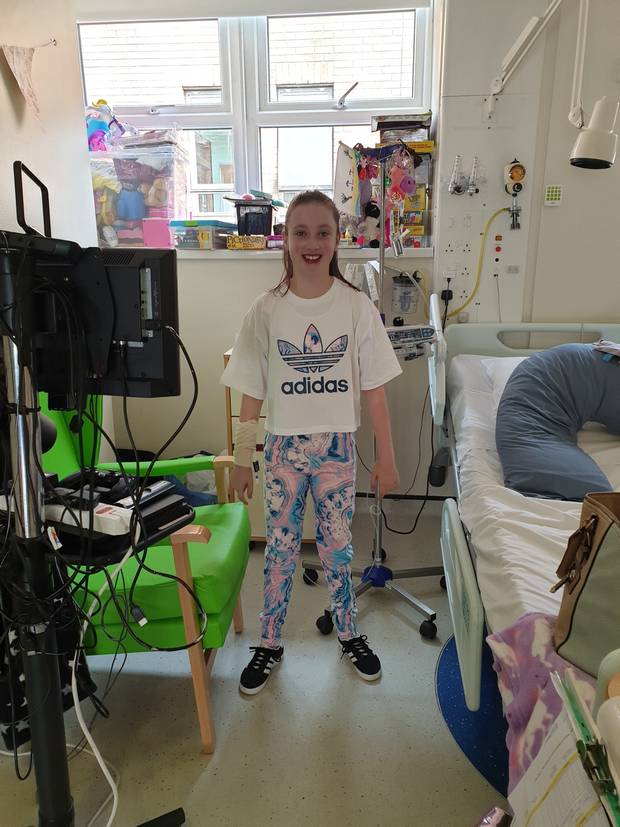 "She inspired us all with her courage and her efforts to encourage people to join the donor register. We will always remember her."
Aimee is survived by her parents, brother, grandparents Karen (Fonsela) and Joey and Jean (Hawthorne), aunts Joanne and Helen and wider family circle.
Her funeral will take place from her home at Tulach Way, Magherafelt on Sunday, October 13 at 2:45 pm, for service in St. Swithin's Parish Church, Magherafelt at 3.30 pm.
She will laid to rest in Polepatrick Cemetery.
The family say they plan to carry on the campaign for greater awareness around organ donation in Aimee's memory.
They have requested that donations in lieu of flowers be made to the Children's Heartbeat Trust NI, c/o Garvin's Funeral Service (Donations A/c), 15 Ballyronan Road, Magherafelt, BT45 6BP.
Tags:
TRIBUTES have been paid to a Co Derry schoolgirl who has died in hospital following a nine month wait for an urgent heart transplant.