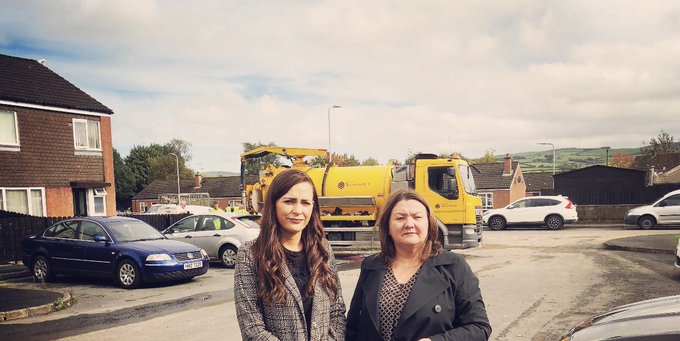 WORK continues to ensure homes affected by the weekend flooding in Sion Mills and surrounding areas are restored to normality, after flash floods resulted in damage to a number of properties in the area on Sunday night.
A number of support funds have been made available to residents in need of assistance as well as assistance with the removal of any furnishings or flooring affected, and the cleaning of properties where floodwater has entered.
The Mayor of Derry City and Strabane District, Councillor Michaela Boyle, visited the area on Monday morning to offer her support to residents impacted by the flooding.
Speaking afterwards she praised the joint efforts of the community working with emergency and statutory agencies as the seriousness of the situation developed on Sunday evening.
"I would like to acknowledge the work of everyone who was involved in Sunday night's event.
"This was a significant weather event which could have had wider consequences for those living in the area.
"The community effort on the ground was tremendous and neighbours worked hard to lend support where they could in the worst affected areas.
"The multi-agency approach was swift and people were on the ground where needed to offer assistance and those efforts continue on into this week with a range of services being made available for anyone who has been affected.
"I would encourage anyone whose home has been damaged to get in contact with the Council to see what financial assistance is available through the Scheme of Emergency Financial Assistance or to contact the Department for Communities for information regarding the Make the Call Wraparound Service.
"Help is there for anyone in difficulty."
Staff from the Housing Executive, Department for Infrastructure, Red Cross and Council have been on the ground to offer advice and support to residents in the aftermath of the flooding.
Council has activated the Scheme for Emergency Financial Aid and Environmental Health Officers are available for anyone requiring a home assessment. An appointment can be made by contacting 02871 253253.
The Department for Communities can offer advice or information regarding other financial support by calling Make the Call on 08002321271.
A number of Housing Executive properties are among the homes affected and anyone in need of assistance can contact 0344 8920 901
Information and advice on flooding is available on the NI Direct website on www.nidirect.gov.uk/articles/flooding or on the council website on www.derrystrabane.com/flooding
Here are the separate details regarding Make the Call if you need them:
Householders can use the Department's "Make the Call" service to ensure that they are getting all the money and supports that they are entitled to.The contact details are:
0800 232 1271 (lines are open Mon-Fri, (9am-5pm)
Or text CHECK to 67300
Textphone users should call 0800 232 1715
Advice is given free and confidential, and a friend or relative can make the call on someone's behalf.
Tags: