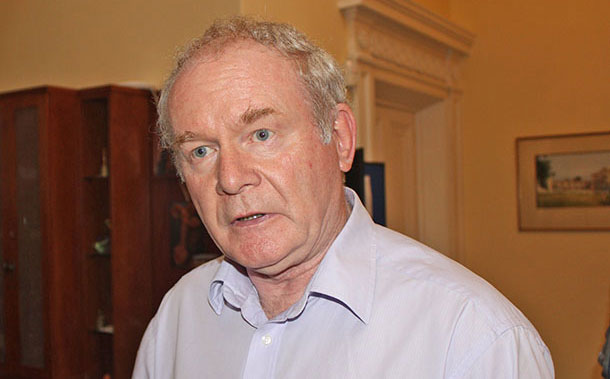 A FORMER FBI agent who snared the IRA's top gun runner in America in a sting has revealed that the man he targeted hosted secret visits to New York by Provo leaders including Martin McGuinness.
And Martin Galvin, the head of Noraid who collected money in the States for Republicans in Ireland, has confirmed John Winslow's claims that the late Derryman stayed at the Brooklyn home of George Harrison.
Speaking to BBC NI's Spotlight team, Galvin says he has his own speculation as to why McGuinness was there but refuses to elaborate.
"I'll let you draw your own conclusions," he adds.
Winslow says he was the undercover agent who was purporting to sell weapons to Harrison who'd been born in Mayo and who was "married to the cause of Irish freedom".
Harrison, he says, was looking for weaponry to bring down helicopters in the North of Ireland, and around the time that he and other IRA men including Joe Cahill were arrested a huge stockpile of weapons was found.
However, Harrison and the other IRA men were acquitted after their defence lawyers claimed they were freedom fighters who were "resisting British oppression" and who had got their guns from a CIA agent which meant they were 'working on US government business.'
Such were the pro-republican sentiments at the time in America that an Irish-born court clerk greeted the not guilty verdicts by raising his fists in salute and shouting "IRA all the way" before he was escorted out of the building.
Meanwhile in the same documentary, former top IRA man Brendan Hughes claimed that Gerry Adams sent him to America to buy Armalite rifles for the Provisionals.
And Catholic priest Patrick Ryan has told the same programme he set up arms deals between the IRA and Libya; that he once stole from church collection boxes to provide funds for the Provos, and that Margaret Thatcher was right to link him to English bombings like Brighton and Hyde Park.
The disclosures come in episode three of the BBC NI series Spotlight on the Troubles: A Secret History.
In an interview recorded before his death in February 2008, Brendan Hughes, a one-time friend and ally of the former Sinn Fein leader, claims Adams sent him to New York to smuggle Armalites back to Ireland in the early 1970s.
Hughes adds: "I think we did push the war forward more than anyone else did. And I think it was Gerry who was largely responsible for that because it was Gerry who sent me to America to get the Armalites."
Adams, who refused to take part in the Spotlight series, has always denied that he was a member of the IRA and he has repeatedly said Brendan Hughes told lies about him.
In the same programme about IRA gun-running, former missionary and parish priest Patrick Ryan has no such qualms about owning up to his part in the smuggling of weapons.
Tipperary-born Ryan says Mrs Thatcher was right to link him to a series of IRA bomb attacks in England like Hyde Park and Brighton which almost killed the Prime Minister at the time.
Asked about regrets, Ryan says: "I have big regrets that I wasn't even more effective. But I didn't do too badly you know."
Ryan claims that it was his discovery of a timing device which transformed the IRA bombing campaign and stopped terrorists blowing themselves up as they made their deadly bombs.
Ryan's admissions run contrary to what he told a Tipperary newspaper in 1988 when he said he had raised cash for nationalist victims of the Troubles but had "never bought explosives for the IRA or anybody else".
In that year Ryan was arrested in Belgium and was sent back to Ireland but the Irish government infuriated Mrs Thatcher by refusing to extradite him to Britain.
In Spotlight, Ryan says that at the start of the Troubles he took money from mission collection boxes to finance the situation in the north but was later approached by the organisation's leaders to work for them permanently.
"They asked me to travel the world and try to get help for them," he says.
The British government was convinced he was the main link between the IRA and Libya's Colonel Gaddafi who saw the Provos as comrades in arms.
Ryan says of Gaddafi: "He was a fine fella, the best I ever met. And we got on very well."
Ryan says that in 1973 the IRA dispatched him to Rome to meet their Chief of Staff Joe Cahill who went with him to Tripoli to meet Gaddafi who initially offered 200 tonnes of weaponry but later reduced the shipment on board the boat, the Claudia, to five tonnes because he suspected someone had blown the whistle.
Veteran IRA man Des Long says Cahill had been told the boat's owner was working with British intelligence.
"He was warned and warned and warned that the whole thing was gone," says Long, and the Claudia was captured off the Irish coast.
Ryan however continued to travel all over Europe working for the IRA and he says he also spotted Memo Park timers which motorists were using to remind them when their car parking fees had run out.
As footage is screened of terrorists making up a device, Ryan says he saw the timers as a means of preventing bombs going off while terrorists were arming them.
Such was the scale of links between Libya and the IRA, the documentary makers say that in November 1972 the Provos chartered a DC3 aircraft to fly 25 rocket launchers and 400 warheads from Libya to Shannon airport.
Days later one of the rockets killed policeman Robert Keys in an attack on Belleek RUC station.
* Spotlight on the Troubles: A Secret History is on BBC1 NI tonight at 9 pm.
Tags: