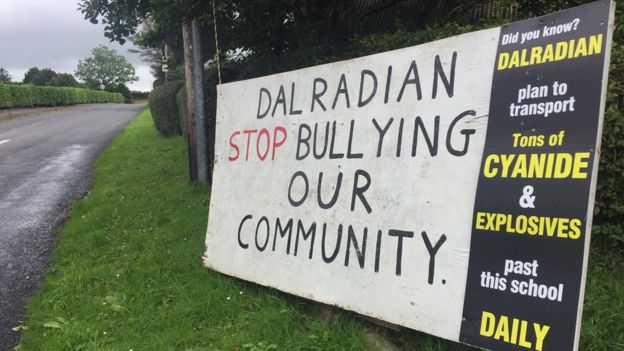 Campaigners have vowed to continue their opposition to a gold mine in the Sperrins after controversial plans for a cyanide processing plant were scrapped.
Canadian firm Dalradian Gold had wanted to open a plant at Greencastle which would use potentially use deadly cyanide to remove the gold from locally mined ore.
Some residents opposed the controversial plan, which was lodged with planners in 2017, on health and environmental grounds.
Dalradian Gold has previously insisted the process is safe, however, in a dramatic change the cyanide plan has now been abandoned.
The mine proposal had faced two separate legal challenges.
In a statement issued yesterday Dalradian confirmed that "no cyanide or smelting will be used".
"Instead, simplified processing will yield a partially refined product that will receive further treatment overseas".
Campaigners say there will be let up in their opposition to the mine.
One used social media to say they would continue to protect the environment: "No gold, no need to process it."
Opposition to the mine has centred on plans for the use of cyanide, on a proposal to build a huge mound of mine spoil into the landscape of an Area of Outstanding Natural Beauty and because of the potential impact on air quality and protected rivers nearby.
In February, the Public Health Agency wrote to planners to express concerns about the use of cyanide at the site.
Gerry Waldron, the assistant director of the PHA, said the solid form of cyanide proposed for use risked the release of hydrogen cyanide gas, a highly toxic chemical that can be rapidly fatal.
Mr Waldron noted that while the company intended to comply with an industry code, it was voluntary and it was not clear what sanctions might be applied in the case of any deviation, or how the code would be regulated.
He also said the amount of cyanide usage suggested the facility should be included in a register covered by the Control of Major Accident Hazards Regulations (COMAH).
That would entail strict conditions and a robust emergency plan shared with local first responders.
Mr Waldron said the planning documents did not reflect that level of assurance.
The company said the mine will bring economic benefits and is one of the largest gold resources in Europe.
It said the mountains could contain £3bn in gold and provide a £750m boost to the Northern Ireland economy.
Tags: