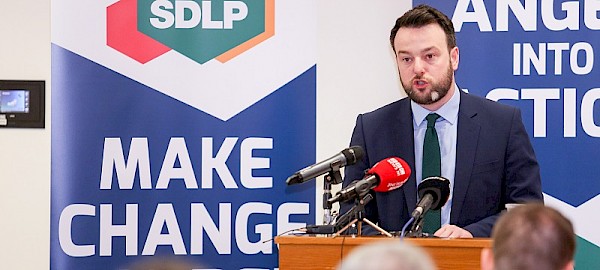 SDLP Leader Colum Eastwood has welcomed efforts in the House of Commons to prevent Boris Johnson from proroguing Westminster to force a no-deal Brexit.
The Foyle MLA said that Johnson, who is likely to become the next British Prime Minister, cannot be allowed to drive the North off the Brexit cliff edge.
Said Mr Eastwood: "In less than a week, Boris Johnson is likely to become the next British Prime Minister and will form a cabinet of hard Brexiteers determined to leave the European Union against the wishes an interests of people in the North.
"His campaign to win over a small pool of Tory members has been high on rhetoric but low on practical solutions to the significant challenges that have been outlined over three years.
"The wave of bluff and bluster that has delivered him to Downing Street is about to collide with a very rocky reality – the Withdrawal Agreement, including the Backstop, is no longer negotiable and no amount of elastic linguistics will change that.
"I welcome the vote in the Commons today opposing the prorogation of Westminster to facilitate a No-Deal Brexit.
"The last week has at least put to bed the suggestion that Westminster is unimportant for people here. When all leaders should be working toward solutions, Johnson cannot be allowed to seek refuge in temporary dissolution."
Tags: