The City and District's biggest ever youth arts festival was a 12 day celebration of young people's culture, featuring hundreds of events including performances, exhibitions and discussion forums that saw more than 20,000 people participate and attend over the duration.
It was the flagship event of Youth 19, Council's year long programme of events and activities focussed and dedicated to young people aged 12 – 24.
The Mayor last week attended Rewire events in the Alley Theatre and the Big Top Tent in Guildhall Square and she congratulated everyone involved in its delivery and success.
"There was a fantastic atmosphere around the City and District over the last 12 days for the Rewire Festival," she said.
"It was a wonderful celebration of youth culture with an eclectic programme of activities that included music, art, comedy film screenings, discussions and fashion masterclasses.
"Managing a programme of this scale is no mean feat and I would like to congratulate the Festival and Events Team at Council and all their partners for delivering a successful event that gave young people the opportunity to expand their horizons and learn new skills in a variety of disciplines and genres."
Among the highlights over the last 12 days was the 'Take Back The Streets' summer academy celebrated the genre of street art while the wide ranging music programme will feature a diverse range of genres including a tour of local schools and colleges by Derry's 2018 NI Music Prize Winner, Roe.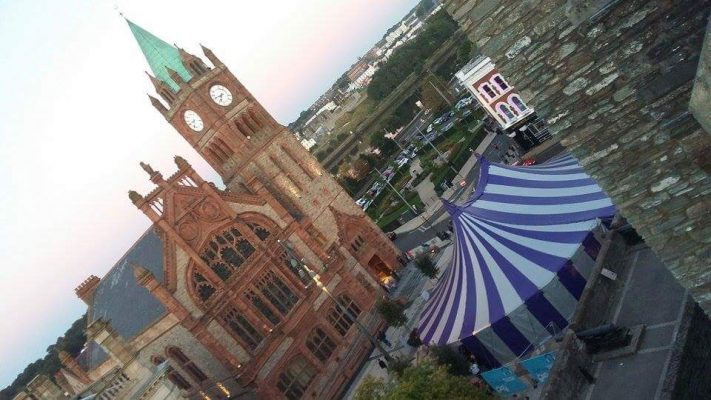 The focal point of the festival was The Big Top events tent in Guildhall Square where daily entertainment included a comedy night, music gigs and a screening of The Greatest Showman attended by the Mayor.
The full Youth 19 programme can be accessed at www.youth19.com while you can keep up to date with news by following the Youth 19 social media channels on Instagram, Youtube, Snapchat, Facebook, and Twitter.
Tags:
MAYOR of Derry City and Strabane District Council, Councillor Michaela Boyle, has praised local young people for the success of the Youth 19 Rewire Festival that concluded at the weekend.