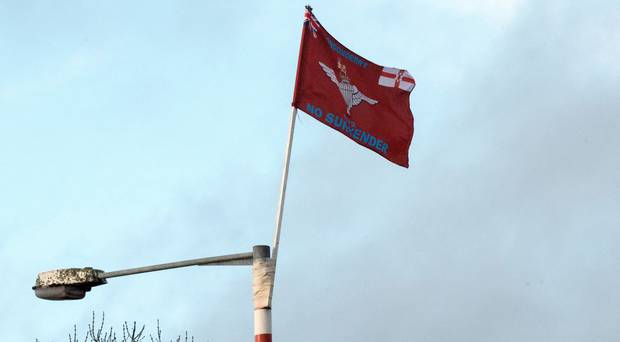 SDLP Foyle Mark H Durkan has condemned the erection of Paratrooper regiment flags on the shared space of Caw Roundabout, in the Waterside area of the City.
Mr Durkan said the deliberate intention to offend and intimidate others within the community should not and must not be condoned in any shape or form.
Said the Foyle MLA: "The presence of Paratrooper flags in Derry is not part and parcel of 'marching period'- it is an intentional provocation and must be removed immediately.
"Statutory bodies need to get a grip. At what point do DfI deem it necessary to remove offensive items from their street furniture?
"They have no problem removing inoffensive items. The failure to act only adds to speculation of tacit support.
"The political quagmire that is 'flags' must be tackled through fresh legislation to ensure authorities cannot shirk responsibility – this explicit show of hatred would not be tolerated anywhere else. Excusing this type of conduct as an expectation of 'tribal politics' here is repugnant.
"We are talking about the mockery of bereaved families in this city, a pain that runs deep within the fabric of our communities.
"Any banner or flag which celebrates a regiment complicit in the murder 14 innocent people, is wrong. It is deeply offensive and only serves to antagonize and re-traumatise families who have fought to protect the memories of their loved ones.
"It is possible to peacefully celebrate all cultures and identities without inciting hatred and causing upset.
"The majority of the public do not support or want these flags, they want our shared spaces to be safe, inclusive and free of intimidation.
"Yes, it is important to remember our history, to celebrate different identities but it should and must always be done in a respectful way.
"Our city has suffered enough.
"This weary conversation should not have to made year upon year.
"It is imperative we create an environment where we can stand up together against antagonistic and offensive items in our city- regardless of people's background, race or religion. Hate is hate- no matter the form in which you choose to express it.
"DfI in conjunction with other agencies and the community itself, must see this for what it is and take action," added the former Stormont Minister.
Tags: