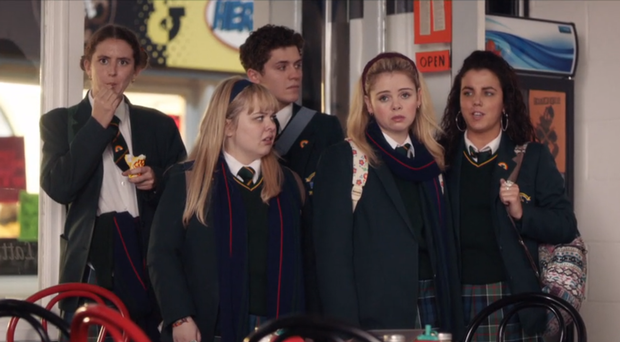 CHANNEL Four confirmed Derry Girls will return for a third series as the current run bowed out in emphatic style last night.
The hit comedy – created and penned by Derry born Lisa McGee – took on a American feel as fever pitch gripped the city ahead of the visit of US President Bill Clinton post the 1994 IRA ceasefire.
The Quinn household was in turmoil as preparations were well behind for the occasion and in case he took the notion to pop in for a cup of tea.
The girls however, had different plans.
They were going to take daughter Chelsea to Lisnagelvin Leisure Centre – as the wave machine had been fixed.
And of course Grandad Joe and his mate set about tracking down the precise location of the Clinton's base.
And with the less-than-willing Da Gerry in tow.
The show ended with the chants of 'we want Bill' but for the girls it was 'we want James' – the wee English fella – who had decided to leave with his mum back to England.
But he made a triumphant return proudly declaring "I'm a Derry Girl".
In contrast to the poignant ending of series one, the series bowed out with the words of Clinton as he addressed the crowds in front of the Guildhall.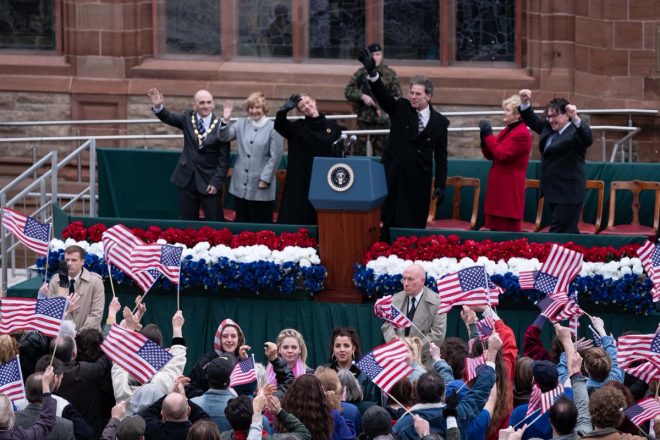 He called on the people to build on the opportunity of peace and "believe that the future can be better than the past".
Since it hit the television screens the show has taken audiences by storm, earning widespread acclaim and taking a host of awards.
It is also up for an Royal Television Society award next month.
And judging on the reaction of last night's series two finale, there will be many counting down the days to series three airs.
"You didn't think we would leave that easy did you," tweeted Derry Girl Nicola Coughlan.
And to confirm the show will return, Channel 4 tweeted: "That might be the end for series 2 of #DerryGirls, but don't worry it will be returning for series 3! @LisaMMcGee @SaoirseJackson @nicolacoughlan @louisa_harland @JamieLeeOD @Djllewellyn 🎉🎉🎉⁣"
Tags: