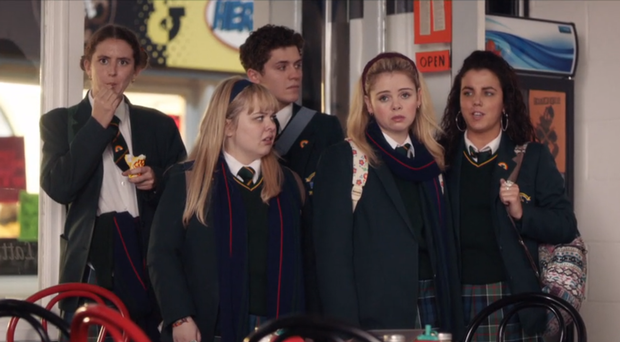 STARS and viewers of Derry Girls have praised the latest episode of Lisa McGee's series for highlighting the importance of protecting peace in the North of Ireland.
As the Brexit negotiations trundle on, and the future for Britain, the North of Ireland and the Republic of Ireland remains uncertain, the 90s set comedy is serving as a timely reminder of the importance of political stability in the north.
Tuesday night's episode saw the fab four attending their end-of-year formal, a 50s themed prom, as the adults at home listened to the announcement of the IRA ceasefire on TV.
The ceasefire began in 1994 and eventually led to the Good Friday Agreement of 1998, which effectively ended violent conflict in Northern Ireland, and which may now be threatened by Brexit.
Cork actress Siobhan McSweeney, who plays Sister Michael in the show, took to Twitter to comment on the significance of the story.
"After watching Tuesday night's episode of #DerryGirls do you now see why I get so upset when Westminster threatens the GFA?
"Peace was hard won and remains a delicate precious thing. Also, how fucking brilliant is @LisaMMcGee."
The episode ended with the announcement of the IRA ceasefire with The Cranberries' hit Zombie playing in the background.
Aside from the usual hilarity, mainly courtesy of Michelle (Jamie-Lee O'Donnell), the episode was emotional for other reasons too, not least the fact that protagonist Erin (Saoirse-Monica Jackson) was stood up by her prom date, only to be rescued by the wee English fella, James (Dylan Llewellyn).
Following the screening on Tuesday night on Channel 4, John Hume's unofficial Facebook page posted: "A very poignant episode of Derry Girls tonight, culminating with the 1994 ceasefire announcement.
"After the episode ended the show's writer, Lisa McGee, tweeted this: 'Thank you John #Peace #Goodfridayagreement.'
"We couldn't agree more."
The final episode of Derry Girls series 2 will be screened next Tuesday, April 9, at 9.15 pm.
Tags: