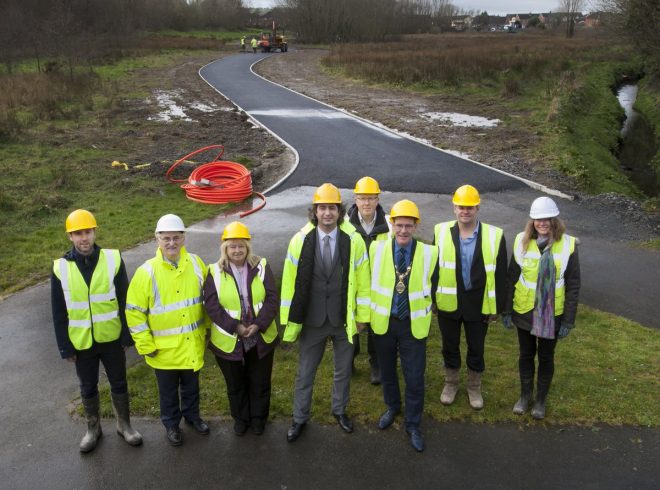 WORK has started on significant upgrade works on the Kilfennan Valley Park Greenway.
The environmental improvement scheme will include a number of enhancements to the existing path network in the park including improved drainage, the installation of lighting and a new crossing point at the Rossdowney Road to Kilfennan Valley Park.
The £549,000 investment is being jointly funded by Derry City and Strabane District Council and the Department for Communities and will complement the new Clooney Greenway project to create a sustainable travel corridor in the heart of the Waterside.
It will include new pathway links and crossing points at Woodburn Urban Park, Rossdowney Road, Rossdale Road and Rossmore Road.
Mayor of Derry City and Strabane District Council, Councillor John Boyle, welcomed the start of work on the project.
"The Waterside Greenway infrastructure has improved significantly in recent years and this project will further add to the existing network and enhance the experience of users of the Kilfennan Valley Park Greenway.
"There are also exciting plans to further develop the North West Greenway network including three cross border routes from Derry to Buncrana via Bridgend, Muff to Derry via Culmore and Lifford to Strabane.
"Our greenways and parks play a key role in encouraging the public to get out into the outdoors and choose active travel options which can have a knock on positive effect on the environment and on people's health and wellbeing."
Paul McNaught from the Department for Communities said: "This investment will have a transformative effect on Kilfennan Valley Park and enhance the City's every growing greenway network.
"As we have seen from previous upgrade projects of this nature, the completed works will make the park a more attractive and enjoyable amenity for users, encouraging active lifestyle choices and bringing communities together in a communal space."
Linda Watson, co-ordinator of the Caw/Nelson Drive Action Group added: "Local residents are delighted and excited that these upgrade works have begun.
"The finished project will create a safer, more comfortable and accessible space for residents to use for leisure and active travel.
"The community group have worked closely with other stakeholders to bring the project to this key stage.
"We would like to express our gratitude to both Derry City and Strabane District Council and the Department for Communities for making the funding available for the plans to become a reality."
Tags: