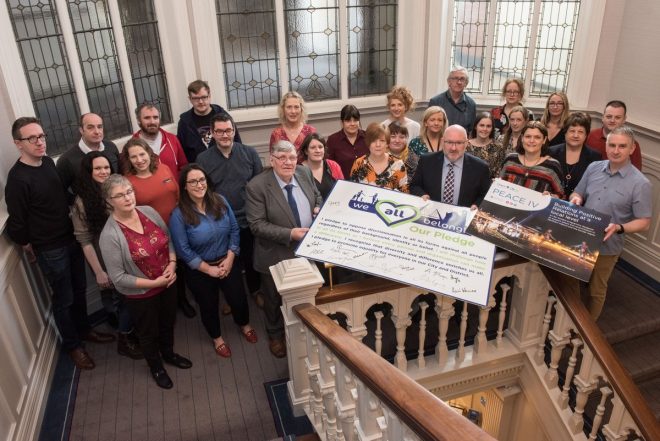 COMMUNITY Projects involved in the local delivery of the £6.7 million PEACE IV programme met in Bishop's Gate Hotel this week to share learning and back the 'We All Belong' anti-prejudice campaign.
The event, organized by Derry City and Strabane District Council's PEACE IV Team, is the fifth local PEACE IV networking event in a programme that has been benefitting community projects in the area for over 18 months. The PEACE IV EU funded programme runs until December 2020 and this latest event focused on sharing the learning at this 'mid-way' stage of delivery.
PEACE IV Programme Manager with Council, Sue Divin, explained more about the progress to date. "We're delighted that the full £6.7 million is now contracted and operational at community level,' she stressed.
"We've 57 live projects.
"All are cross-community projects with reconciliation content spread across our three themes of Children and Young People, Shared Spaces and Services, and Building Positive Relations.
"All bring significant benefit to local people and help transform local places."
Alison Wallace, incoming chair of the PEACE IV Board, stated. "It's wonderful that almost all of the PEACE IV grants and tendered contracts have been bid for and won by local community providers.
"The funding is a massive incentive and support to reconciliation and diversity work but is equally a boost to the local economy. In our final round of grants we've recently contracted another £160,341 across 6 community projects."
Welcoming SEUPB and project providers to the event, incoming co-chair Councillor Gus Hastings added:
"Our local communities, rural and urban, right across our Council area and across a wide range of identities, are fully engaged.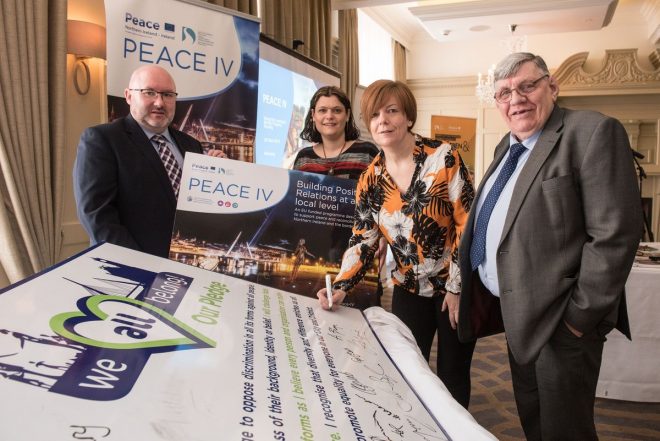 "We've 2,761 participants signed up so far and a much wider range of indirect beneficiaries. Each PEACE programme goes from strength to strength and is a credit to all those who put in so much time and effort."
The 'We All Belong' Pledge, signed by those present on the day is a PEACE IV funded anti-prejudice public campaign. It can be followed on Twitter at @HereWeAllBelong and on Facebook.
The PEACE IV Programme is supported by the European Union, managed by the Special EU Programmes Body (SEUPB). Match-funding has been provided by the Executive Office in Northern Ireland and the Department of Rural and Community Development in Ireland.
Tags: