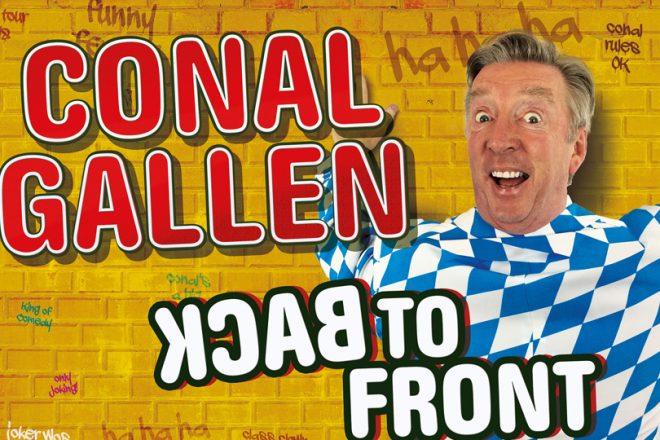 HE may be regarded as one of Ireland's top comedians but Donegal's Conal Gallen has certainly shown over the years that he has quite a few strings to his bow.
The Ballybofey funny man is currently in the throws of a brand new one man stand up concert tour throughout Ireland and his next stop is The Alley Theatre in Strabane on Friday, April 5.
When he first burst on to the entertainment scene several years ago, Conal was seen as a breath of fresh air and he is still regarded as being as fresh as tomorrow's milk.
That's because he has continually updated his repertoire, throwing in topical quips and poking fun at a range of diverse subjects.
Conal has gone back to his singing roots and has incorporated it slightly more into this year's tour, even cracking out the guitar after 20 years of being safely stored away in the guitar case.
When it comes to singing that Conal has shown himself to be both composer and performer.
He wrote his huge hit 'Horse It Into You Cynthia' himself and has since had success with numbers such as 'Do Your Ears Hang Low' and 'Rolling In The Hay'.
Only recently he brought out a very impressive album, Conal Gallen's Songbook, which includes a superb version of 'And the Band Played Waltzing Matilda'.
In tandem with his son, Rory, who is also his manager, the creative Conal has also written a couple of stage plays, which underlines his versatility.
He continually raises the bar for himself and as Hugo Duncan recently said: "I know that several of our top country singers are keeping a weather eye on him in case he comes up with a monster hit."
Anything is possible with Conal, who never ceases to strike a rapport with his audiences and whose humour transcends the generation gap.
So come along and be in fits of laughter from the very start right through to the very end.
Tickets are £22.50 available from the Alley Theatre Box Office on 028 71 384444 or online www.alley-theatre.com
Tags: