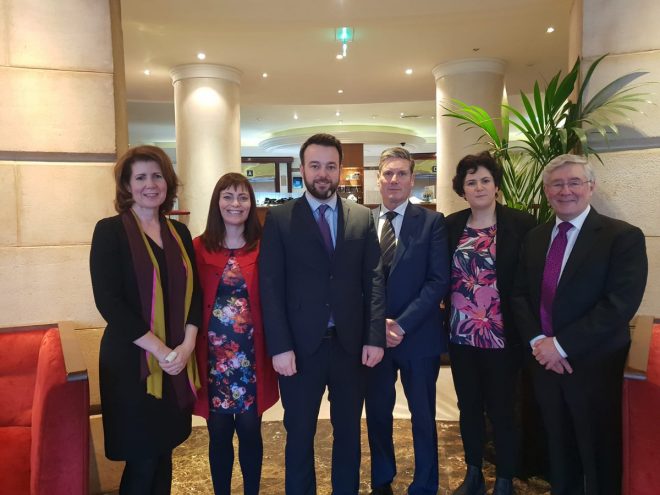 SDLP Leader Colum Eastwood has again reiterated the party's position for the need for a Backstop.
After meeting a Labour Delegation in Belfast, including Shadow Brexit Minister Keir Starmer MP, Mr Eastwood added that he impressed upon the delegation the importance of the Backstop in protecting the interests of people here.
Mr Starmer and his colleagues understood the neccessity of a Backstop.
The MLA for Foyle said:
"Today we made clear that London must stop placing the interests of the people of Northern Ireland behind parliamentary arithmetic.
"The Backstop is the only mechanism to insure against a hard border and the only way to uphold the will of the people of Northern Ireland. It is that simple.
"We were encouraged that Labour MPs Keir Starmer, Tony Lloyd and Jenny Chapman understood this position.
"Labour have a strong history in recognising the delicate position we find ourselves in here, as well as stepping up to assist us in the progress of maintaining peace. We hope this is a position they will take in any forthcoming Brexit votes.
"The SDLP have been clear, we cannot allow the disarray in London to spill over and disrupt the lives of people here. The Backstop must be banked."
Tags: