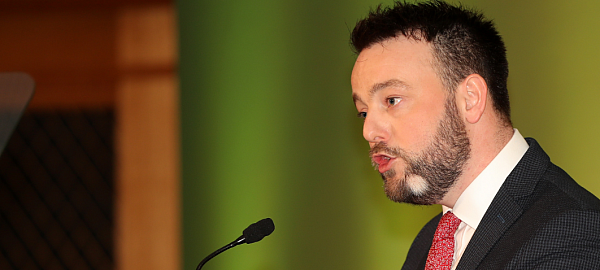 SDLP Leader Colum Eastwood MLA has hit out at the British Prime Minister following her statement in the Commons, saying her commitment to the Good Friday Agreement was "superficial".
The Foyle MLA stated: "It is not possible to fluff the backstop" and he urged politicians in the North of Ireland to "yield power" to stop the Brexit chaos as "London panders to the DUP against Northern Ireland's interests."
Mr Eastwood added: "It is crystal clear that the British Government's commitment to the Good Friday Agreement is superficial. Theresa May can't have it both ways.
"She cannot drag Northern Ireland out of the EU without agreeing the Backstop and expect to avoid a hard border.
"We have been through this time and time again – but Theresa May either doesn't get it or doesn't care.
"However, the SDLP, the EU and the Irish Government are clear that the Backstop is non-negotiable.
"Despite people in Northern Ireland widely supporting the backstop, the British Government continues to shamelessly pander to the DUP against the interests of people here.
"Today's statement proves only one point – that the British State is in chaos.
"Boxed into a corner, the Prime Minister is running out of time and running out of options; clinging to the DUP to help her hold onto power – despite the fact the DUP do not represent our interests nor the views of the majority of people in the North.
"We have reached a critical point and with that politicians here cannot simply point the finger.
"Sinn Féin, despite being gifted power to sit in Westminster, have abdicated their responsibilities.
"They have let the DUP take back control and silence the voice of Irish nationalism.
"Politicians now need to yield the power given to them to stop this Brexit chaos, that's both in Westminster and in Stormont.
"Time is up and compromising our peace and our freedoms on this island is not an option.
"The SDLP want to go back to Stormont, we want Irish voices fighting against the DUP and Tories."
Tags: