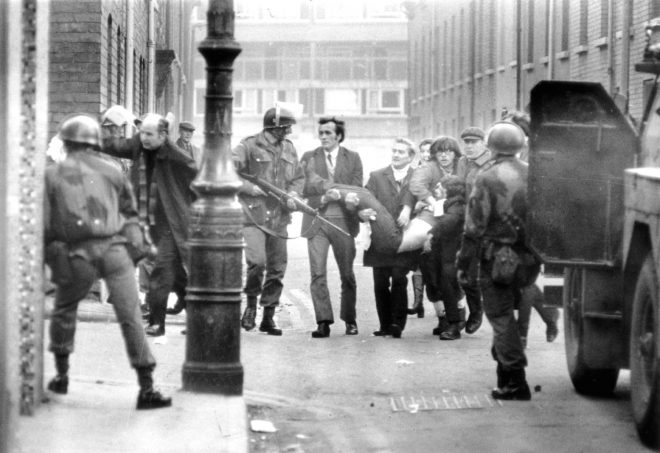 A decision on whether or not to charge British paratroopers involved in the Bloody Sunday killings of unarmed civilians has been delayed until next year.
It has reported that the decision, due to be made in the summer, has been put back due to legal issues.
Eighteen ex-paratroopers are waiting to learn if they will face prosecution in relation to the events in Derry on January 30 1972.
Thirteen people were shot dead when British paratroopers opened fire on civil rights marchers, with a 14th victim dying later.
The landmark Saville Inquiry concluded in 2010 that all those killed or injured were innocent.
British Prime Minister David Cameron issued an official apology in the House of Commons, describing the killings as "unjustified and unjustifiable".
Two years later, in 2012, the PSNI launched a murder investigation and passed the files to the PPS in 2016.
The police concluded that charges related to Bloody Sunday could be brought against 18 former soldiers.
In addition, action is being considered against two individuals connected with allegations of Official IRA activity that day.
One member of the republican group told the Saville Inquiry they had fired on soldiers in retaliation for the shooting of two protesters.
Last month 14 Bloody Sunday compensation claims were settled against the Ministry of Defence, with a further £900,000 to be paid out.
In September a judge also awarded Michael Quinn £193,000 for the injuries he received after being shot in the face as a schoolboy.
The subject of soldier prosecutions has long caused outrage among veterans' groups and many unionist politicians, who label them as a witch-hunt.
A paratrooper, present in Derry on Bloody Sunday, told the Telegraph that it was "disgraceful" soldiers were still waiting to find out if they would be charged.
He cannot be named for legal reasons, but is facing attempted murder charges for injuries caused to two protestors who were hit by flying debris, dislodged when he fired into the air. He was first interviewed by police in April 2016.
"We live to wait. That's all we do is wait, wait, wait. We were supposed to hear last winter then it was pushed back to the spring and then the summer. Now it's back to next year," he told the Telegraph.
"It's agony. It's disgraceful. I will be 77 very soon and it just keeps dragging on. I am heartily disgusted with the whole system.
"The prosecutors don't seem to want to make a decision. They are just dragging it out. It feels like they are playing with us. I can't believe they can keep me under investigation this long."
A Public Prosecution Service (PPS) spokesman told the Telegraph that a decision was expected on whether or not to charge the soldiers in the coming weeks.
"The files relating to Bloody Sunday remain under consideration by the Public Prosecution Service and are at an advanced stage," the spokesman said.
"Senior Counsel has been instructed to advise on a number of issues in the case and we are expecting receipt of this advice in the coming weeks.
"As indicated at the outset of the PPS's consideration of these files, the volume of material and complexity of legal issues involved have made it difficult to provide a definitive time frame for decision.
"We have remained in regular contact with the victims and families to advise on the progress of the case to date and we intend to update them again as soon as counsel's advice has been received."
Tags: