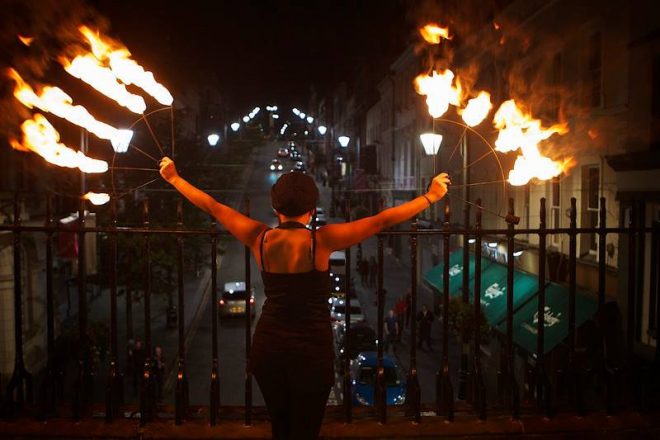 DERRY and Strabane Council are encouraging people to come out and enjoy a fantastic evening of cultural creativity and exploration on Friday 21st September – Culture Night 2018 – which aims to 'challenge, inspire and engage' audiences throughout the City & District with a 'visual arts' extravaganza.
This year's eclectic Culture Night programme also has a particular emphasis on offering events for children, young people and families – including 'At the Gates of the Music Palace' at Void Gallery and 'Bird' at Gwyn's Café & Pavilion in Brooke Park.
'At the Gates of the Music Palace' will have a Children's Treasure Trail as part of their current exhibition by artist, poet and choreographer Alex Cecchetti, which brings together performance, painting, sculpture and sound installation.
Children will have an opportunity to run around the gallery – ­and with giant copper structures at the back of the space which resonate – they will be able to make music with their own body!
Tansy Cowley, spokesperson for Void, said: "Alex Cecchetti's 'At the Gates of the Music Palace' is a very family-friendly and interactive exhibition – which really has to be seen to be understood.
"I would therefore encourage as many people as possible to come along on Culture Night and to experience this amazing exhibition!"
Another key attraction of this year's Culture Night is 'Bird' by Margaret Salmon which takes place from 7pm-9:30pm at Gwyn's Café & Pavilion in Brooke Park.
'Bird' is a 6-minute film aimed at general audiences but with a particular focus on children. Installed with adult and child-friendly headphones to experience Bird's score by composer Matthew Herbert, this exhibition interacts with the design of Gwyn's Café and Pavilion and recognises the history of the Brooke Park site, formerly a Victorian orphanage financed by John Gwyn – and a safe haven for birds since 1839.
There will be a number of worksheets available for children for the duration of the exhibition on Culture Night to colour in and fill out – designed to add to the experience of 'Bird' and encourage children to look for many of the birds featured in the film in the trees and shrubs in Brooke Park.
Elsewhere on Culture Night there will be a series of 'visual arts' exhibitions, talks by artists, open studio nights, workshops, demonstrations and video & documentary screenings at venues across the city & district encouraging people to try something new.
The Centre for Contemporary Art (CCA) on Artillery Street will be hosting an intergenerational workshop for families. Partnering with the Derry Print Workshop and artist Miguel Martin, who has designed a set of symbols based on emoji, kids and parents will have the opportunity to screen print their own bespoke family flag using combinations of these symbols.
The workshop takes place on a rolling basis from 4-7pm but pre-booking is advised by emailing [email protected] to secure your place. Screen-printing can be messy so remember to wear old clothes or bring an apron!
An exhibition of prints at the Eden Place Arts Centre from 6-8pm of Amnesty International's latest book entitled 'Imagine' also encourages children and young people to join in – which is a collection of illustrations accompanying the words of John Lennon's iconic song.
For 'culture vultures' in Strabane and Sion Mills there is also an eclectic mix of visual arts events for the whole family to enjoy.
The Sion Stables will be exhibiting "Sion" by local artist Conan McIvor from 7 to 9.30pm. Curated by Mirjami Schuppert, "Sion" is a site specific audio video installation that looks at the unique history and purpose of Sion Mills and is a must for all locals and visitors alike.
The installation reflects on the unique ideology of the village and is linked to CCA's up and coming exhibition 'Lavish and Judicious' which explores the history of the utopian model village.
It is also part of 'New Spaces' – a visual art programme with a difference which began in July this year with exhibitions opening in 'new spaces' or unusual venues across the district.
The 'Sion' exhibition has been on display since 25 August and will have a special showing on Culture Night before it closes the following day on 22 September.
Another local artist who will be profiled during Culture Night is Barry McGowan, who is renowned for his portiture and caricature art works.
You can catch him and his latest works at Café Scoop on Castle Street from 6-9pm. Not only can you see his art pieces but you'll get a chance to speak to him about his work and find out where he gets his inspiration from.
Strabane's Alley Theatre will also play a key role in profiling the local cultural offering when it hosts the Strabane Photographic Society's exhibition of talent. This is a fantastic opportunity to showcase the work of local camera club members.
The exhibition is open throughout the day from 10am to 9pm.
Encouraging people to come along on the night and be part of the celebrations, Events organiser with the Council Sharon Meenan says Culture Night is a great way to explore some of the hidden treasures around the Council area and to attend a range of events that they would normally not have access to – including those focusing on the visual arts.
"Culture Night 2018 is all about encouraging people who would not normally go to an art exhibition or a visual arts screening to be part of the celebrations.
"I would also urge people to plan their night in advance so that they can enjoy as much as possible.
"All of the events are free and easily accessible, you just have to show up and enjoy! Culture Night is also about showcasing our local venues and our local talent and inviting the public to be part of it – and we are hugely excited about our celebrations on Friday 21 September and hope it will be a great success," she said.
The full programme for Culture Night 2018 is available to view at www.derrystrabane.com/culturenight
The public can follow the action and share their own experiences on social media using the hashtag #CultureNightDS
Tags: