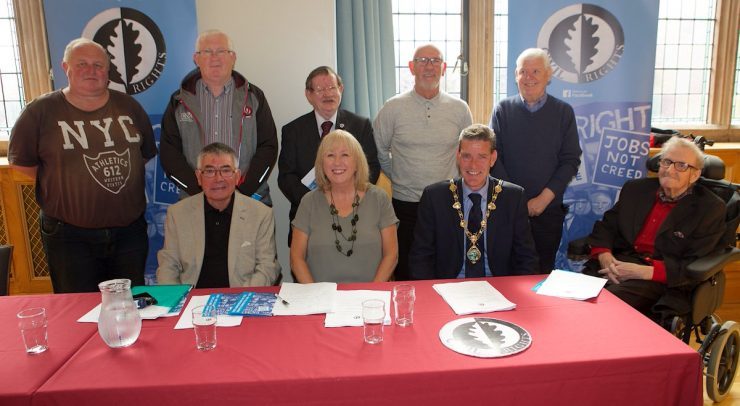 MAYOR of Derry City and Strabane District, Councillor John Boyle, welcomed members of the 50th Anniversary of Civil Rights Committee 1968-2018 to the Guildhall on Thursday for the launch of a special programme of commemorative events which will be held in the Guildhall from October 4th -7th, to commemorate the 50th Anniversary of Duke Street Civil Rights March.
For the launch the Mayor was joined by veteran Civil Rights campaigner Ivan Cooper, Chair of the Civil Rights Commemoration Committee Professor Paul Arthur, and members of the committee.
President Michael D Higgins will make a keynote address at the Civil Rights Festival on Saturday 6 October, and will be joined by an impressive line-up of speakers marking one of the most significant eras in local history and a pivotal moment in the struggle for civil rights.
Speaking at the launch, Councillor Boyle said: "I can think of no greater honour or privilege in my term as Mayor of Derry and Strabane, than to be launching the 50th Anniversary Civil Rights Festival.
"I believe that it is fitting that this significant anniversary event will be staged in the Guildhall as the events of October 5th 1968 continue to resonate throughout those particular corridors."
For more information on the Festival go to http://www.nicivilrights.org/
Tags: