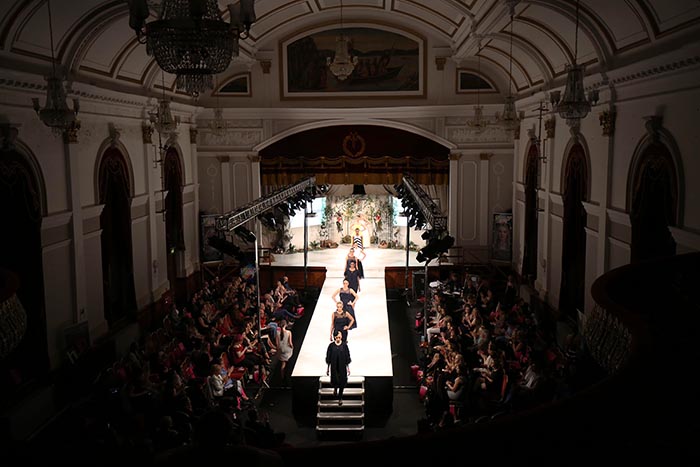 THE sun was shining today as some of the stars of the North West's biggest fashion celebration, Fashion Fest, took to the streets to launch this year's much anticipated programme.
The annual event has become a highlight in the fashion calendar, offering many opportunities for local designers to showcase their work alongside portfolios by some of the leading names in the industry.
It takes place this year on Saturday, October 13 in the Guildhall.
This year Fashion Fest is delighted to welcome renowned London designer Kate Halfpenny who counts British style icons Kate Moss, Erin O'Connor and Emilia Fox among her close friends and devotees to her work, which focuses mainly on stunning and edgy vintage style bridal gowns.
Kate studied in Textiles at London's prestigious Central St. Martins, feeding her obsession with fabrics, lace and beading.
This knowledge and experience, combined with Kate's skills as a stylist, gives her an unparalleled ability to design and create breath taking pieces to make any bride's special day.
During Fashion Fest there will be the opportunity to view some of her latest collection and Kate will be sharing her inside industry knowledge with local emerging designers.
Launching the event, Mayor of Derry City and Strabane District, Councillor John Boyle, said Fashion Fest was an important endorsement of the growing local fashion industry.
"I'm delighted to take the opportunity to launch Fashion Fest which has become one of the biggest showcase highlights for the local industry," he declared.
"Derry's long connection with the textile trade makes it the perfect location to develop a hub for designers and retailers to produce authentic and creative works inspired by our unique heritage and the long tradition of producing top quality apparel.
"I look forward to seeing the final details of the programme which promises to offer plenty of opportunities for young designers to learn more about the industry."
Now in its fourth year, Fashion Fest has established its presence as the premier fashion event for local designers hoping to show their work on a local stage.
Derry City and Strabane District Council has been working closely with the Fashion and Textile Design Hub on Shipquay Street to get local designers involved, and use the festival as a springboard into the wider industry.
Business Support Manager with Derry City and Strabane District Council, Louise Breslin, said she was looking forward to another spectacular event.
"The Council team has been working closely with local designers and retailers since the success of last year's event to further enhance the programme's appeal for those young designers, models and creatives who are seeking advice and inspiration.
"It's fantastic to be able to provide a platform for the wealth of talent which is right on our own doorstep and to watch the growing network of established designers forming a strong connection with our city.
"We will be revealing more details of the programme in the coming weeks – so watch this space."
While final touches are being put to the Festival programme, this year's event will feature another outstanding Fashion Fest Catwalk showcase led by the team at Style Academy, which will take place in the iconic Guildhall, Derry.
Tickets are on sale now priced £15.00 and can be purchased from www.derrystrabane.com/fashionfest and Eventbrite.
Tickets will also be available to purchase at Guildhall, Derry and Alley Theatre, Strabane from next week.
You can follow all the news for Fashion Fest 2018 on Instagram @fashionfestderry and on social media using the hash tag #fashionfestderry.
Tags: