LOCAL boat owners are being urged to get on board this summer at the Foyle Maritime Festival.
Organisers say on their Facebook page: "This July the quayside will be transformed by maritime magic as Derry once again hosts the Foyle Maritime Festival and welcomes the Clipper Round the World Yacht Race fleet back to the Foyle.
"The internationally acclaimed festival event will return on Saturday July 14th to Sunday July 22nd 2018 – heralding a full week of music, markets, entertainment, and river based activities – not to mention the thrill of the race competition as the Clipper Race fleet returns to the city.
"The distinctive Clipper Race yachts will berth in Foyle Port Marina during the race stopover from New York before sailing to Race Finish in Liverpool."
A jazz catamaran, visiting Tall Ships, a seafood festival and an artisan market will surround the arrival and stopover of the Clipper Round the World Yacht Race Fleet in Foyle Marina.
Sailors are invited to moor their boats along the Quay to add to the carnival atmosphere and they will be provided with a simple light kit to dress their vessel during their stay and join in the magical showcase on from 9pm – 11 pm.
While here, they will get the chance to chat to competing Clipper Race crews, skippers and race teams as well as have the opportunity to see around the incredible racing boats or even have a sail along the River Foyle on one of the racing yachts.
A range of visiting boats and Tall Ships will also be berthed along the Quay for the duration of the Festival, which this year is based around the theme of 'Voyages', making it the dream setting for sailing families seeking out the ideal destination this summer.
The highlight will be the Parade of Sail and Light showcase involving hundreds of performers on land, air and water entertaining thousands of festival visitors watching spellbound from the riverside.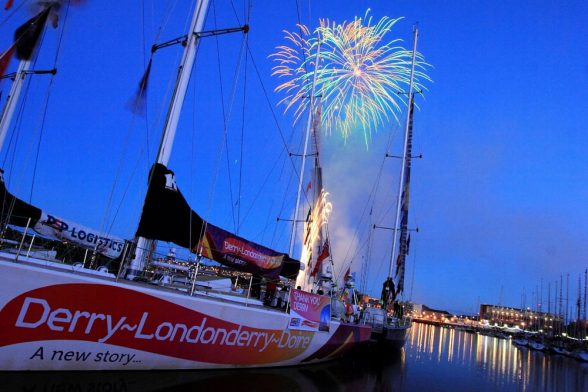 Tags: