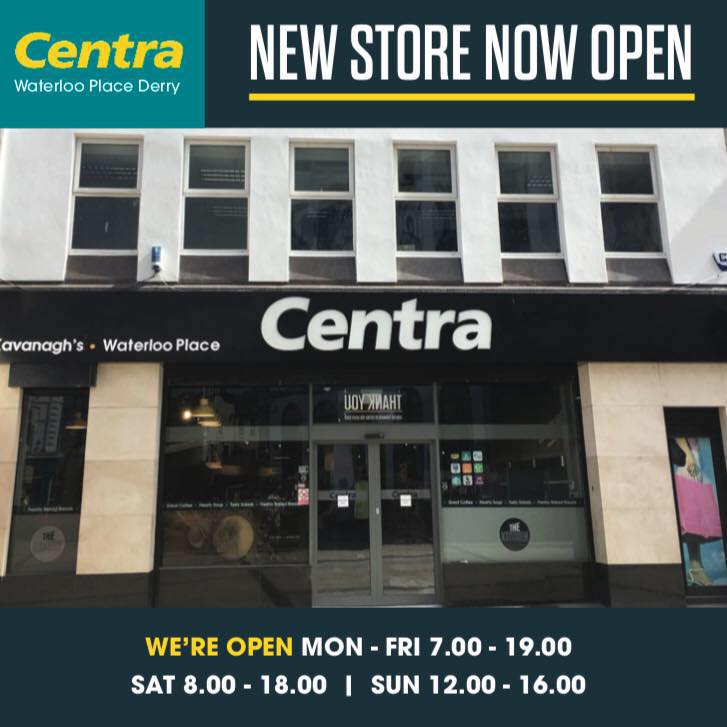 CENTRA, one of the North's leading convenience retail brands, has opened a new store in Derry, creating 30 new jobs and bringing £750k investment to the city.
The new store, located on Waterloo Place in the city centre, and operated by the Kavanagh Group, will be the first of its kind in the North of Ireland, say Nigel Maxwell, Musgrave's Centra Sales Director.
"We are incredibly proud of the new Centra store which has some of the latest developments in leading convenience retailing in Northern Ireland.
"We are showcasing the very best of what Centra has to offer customers, all under one roof, greatly enhancing the shopping experience of everyone who comes through the doors.
"The high specification the Kavanagh Group have put into the store is truly incredible and we'd like to wish them every success with their fantastic new store."
Noel Kavanagh Jnr, Group Managing Director, Kavanagh Group: "We have created 30 jobs for local people but importantly we are investing in the future of the city and helping to keep the Waterloo Place area a thriving place for everyone to do business."
The store has a new healthy eating salad bar called, Green Kitchen, the first of its kind in Northern Ireland, continued Noel.
"We are committed to offering our customers a healthy range of food and drink so we are very excited to be chosen as the site of Northern Ireland's first ever, Green Kitchen.
"Green Kitchen allows customers to create their own salads from a wide selection of fresh ingredients.
"New, fresh and healthy ranges will also be introduced, giving consumers quick and convenient access to healthy food options, making it easier to eat and live well.
"The retail market has changed at a rapid pace over the past few years so we've reinvigorated our food expertise and merchandising to match consumers' changing needs, offering a huge amount of choice through Musgrave and their top class Centra brand.
"We're excited to have the coffee brand on everyone's lips at the minute, Frank and Honest, the largest coffee brand on the island of Ireland, available in the store.
"The coffee machine offers barista quality coffee every time and is fast becoming the coffee lovers number one choice.
"We have a Hot Wing Bar, a fantastic hot and cold 'Food to Go' area serving breakfast, lunch and featuring a carvery section with wraps, gourmet sandwiches and baguettes.
"We have installed a 20-seater, sit-in area so that our customers can relax and enjoy their food in a space designed especially for that purpose", said Noel.
The store also has an off-licence, scoop ice cream and an in-store bakery, concluded Noel.
"We're a one-stop-shop for the modern convenience consumer and we look forward to serving the Derry~Londonderry community for many years to come."
Tags: