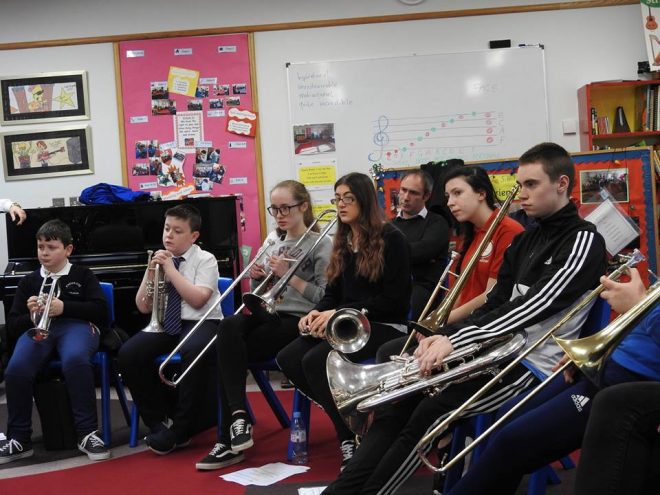 THE Alley Theatre are offering the public a packed programme of entertainment in the coming months with the launch of their summer schedule.
The season, from May until September, includes music, comedy, summer schools, stand-up comedy, children's theatre and a special performance from the young musicians from the Brass Works collaboration who launched the programme this week.
Jacqueline Doherty, Venue Manager at the Alley Theatre, said they are delighted to offer such a wide variety of entertainment.
"We are delighted to be welcoming such a packed programme of events this Summer," she said.
"From beautiful exhibitions from local and national artists to entertaining shows and original talent, come along and enjoy a night out at the Alley this Summer.
"Pick up your programme of events or check out what's on online, you can make a night of it and enjoy a pre – theatre meal deal and ticket package for selected shows in Masala Indian Restaurant.
"We look forward to welcoming you to the Alley Theatre this Summer."
Top comedy drama in the schedule includes Nuala and Noleen in 'It's Wine O'Clock' while there are music treats from the legendary Dublin City Ramblers, Dominic Kirwan and The Four of Us.
The month of May is full of comedy, music and original theatre as, back after popular demand, our men over 55 years of age return in 'Are You Going for Another Mineral?' – a night of musical nostalgia from the Music to your Ears III project.
Girls will enjoy the best night's laugh in the craziest wedding of the year 'It's Wine O'Clock' with the Winebulance providing the drink, the band 'Keeping er Lit' and the craziest guests, get ready for a rip roaring laugh out loud feel good tonic with a special wine promotion on the night.
On May 12th Ethan McDowell brings a special documentary 'Children of the Troubles' which explores the different stories of those whose lives were changed during the troubles.
If you love fairytales with a twist then come along to the comedy 'Bedtime Stories' by Makey Uppers, suitable for ages 16 and over, the fairy tales have been dragged into the 21st century kicking and screaming with a sharp and original review of all things 'happily ever after'.
At the end of May, the Arts Academy are proud to present 'Time' – an original musical by David Oliver and Cat McGinty as they invite you to join them on a trip back to the 1990s with an inspired soundtrack to accompany the unique and colourful musical for the whole family.
The programme is also packed with Children's Theatre from leading theatre companies all over Ireland.
CBeebies Patrick Lynch brings the classic 'Tom Thumb' to life in a playful and fascinating show for children aged 3 and above.
If your kids love maths and science then prepare to be dazzled and bewildered by Cahoot's NI's 'Danny Carmo's Mathematical Mysteries where math, theatre and digital technology collide.
For audiences under 5, Snoozle and The Lullabugs will perform the 'Rockabilly – Rockabye' interactive show – a relaxed performance including chilled out harmonies and calming sensory activities.
Dog lovers will not want to miss 'Woofle' as singer songwriter Dan Leith brings lots of furry fun about Dan and his dog with plenty of silly songs and stories.
Bring your teddy along for Tom Sweeneys 'Teddy Bears Sing – Along' in August, bring your cushion, teddy and be prepared for lots of singing, dancing and stories.
Celebrating Strabane's love of Brass Band Music will be a unique collaboration between Knocakavoe School, Strabane Brass Band and The Brass Works in 'Bringing Music to Life' as part of the TADA Festival in June.
Encore Performing Arts Academy presents 'Broadway Babes' in June in this end of year showcase as they bring Broadway Theatre to the stage for all to enjoy.
Keep the kids busy this summer as the Alley Theatre have two summer schools in July and August.
After popular demand the 'Summer School of Rock' by the Arts Academy returns for a week in July to the kids unleash their inner rock star as they will learn guitar, drums, singing, songwriting, digital sound, lighting and technical and lots more in this fun filled week with a final showcase at the end in front of family and friends.
No previous musical experience is required. Suitable for 7 years and over, book your place now through the Alley Theatre Box Office
If you love acting, singing and dancing and are aged 7 – 18 years old then 'The Wizard of Oz Summer Project' by The North West Youth Theatre is for you.
For three weeks in August, you can take part in creating the fabulous stage production of the Wizard of Oz. Could you be the star?  Send your details to nwyouththeatregroup@gmail.com
The Summer months are full of music as the Open Mic Nights return, hosted by Gary Elliott.
Crowd favourites Jazz Gazette return with their exceptional Summer Jazz Nights throughout August while other music highlights throughout the summer include Iron Maiden Tribute, Karen Underwood, The Soda Popz – a jukebox Jive Rock n Roll Show, The HardChargers and Wookalily.
The Energy of Light Disco's return for over those over 15 years old for two dates in July and August, DJ Oliver will be DJing in these afternoon discos which are disability and autism friendly.
Not to be missed are some of the Autumn Highlights which are now on sale at the theatre, including 'Tyrone Pipers Day' featuring Fred Morrison and Paddy Keenan, Mike Denver, Neil Delamere and Phil Coulter..
The Alley Theatre Art Gallery will be hosting a range of exquisite exhibitions throughout the summer, all are free to attend, see www.alley-theatre.com for more information
To book tickets for any of the events outlined contact the Alley Theatre Box Office on 028 71 384444 or online at www.alley-theatre.com.
Download the programme online and keep up to date on the Alley Theatre Social Media Channels.
Tags: