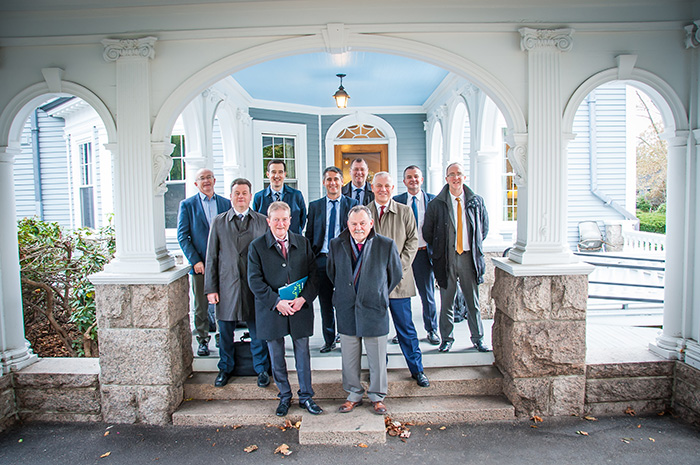 LOCAL companies with their sights set on the US market have the opportunity to sign up for two cross-border trade mission trips taking in both Boston and Philadelphia this coming June and November.
The Ireland North West Trade Missions, which launch today, are a joint venture between Derry City and Strabane District Council and Donegal County Council, aimed at supporting enterprises in the Creative Digital Technologies, Life and Health Sciences, Advanced Manufacturing and Engineering sectors, interested in tapping into new markets.
Those participating in the trade missions will have access to a pre and post mission support programme and key economic and Government decision makers, and will also benefit from exceptional networking opportunities, tailored B2B meetings, extensive media coverage and subsidised costs.
Building on the strong business network established through extensive cross-border collaboration in recent years in developing cultural, economic and political linkages with the East Coast of the USA, the trip will provide the perfect platform for local ventures to showcase their products and services to new markets.
The 2018 Ireland North West Trade and Investment Programme will capitalise on the successes of previous years and has been extended to include a series of events in Philadelphia, which has a strong historic affiliation with the North West region.
The partner Councils have been establishing connections with the State of Pennsylvania and City of Philadelphia, which culminated in three inward visits in 2016/2017, and an outward visit in November 2017 to coincide with last year's mission to Boston Massachusetts.
Last year 15 local companies made the trip to Boston in November, alongside officers from both Councils as well as representatives from Udaras na nGaeltachta, Donegal Local Enterprise Office, Ulster University, Letterkenny Institute of Technology and the North West Regional College.
The delegation took part in an extensive programme of engagements including conferences, industry visits and networking events. Each company had the chance to form meaningful connections in their relevant sectors, gain an insight into the US market and the opportunities it presents, as well as identify potential customers and distributors.
Mayor of Derry City and Strabane District, Councillor Maolíosa McHugh, jointly led the delegation last year alongside the Leas-Cathaoirleach of Donegal County Council Councillor Noel Jordan.
They both agreed that the experience had been extremely beneficial in raising the profile of the North West City-region, which is a key strategic priority for the Councils.
Mayor McHugh said: "It is vitally important that we continue our work in profiling the North West as a gateway to both the EU and UK markets, and a unique and vibrant place to do business.
"I had the opportunity to see this collaboration between the two councils at work and the positive reception in the US for the strong proposition we have to offer.
"I would highly recommend the experience to any business hoping to both enhance their prospects overseas and act as proud ambassadors for all we have to offer in our beautiful corner of the world."
Leas-Cathaoirleach of Donegal County Council, Councillor Noel Jordan, added: "Last year's trip was extremely successful as an opportunity to identify new opportunities for foreign direct investment and to promote the growth and development of the North West.
"Those taking part had the chance to form new relationships with key stakeholders in the spheres of education, politics and business, and to showcase the unique products and services they have to offer to the right market. I would encourage local businesses to find out how it could benefit them."
The trade mission to Philadelphia will take place from June 18-20, 2018 while the Boston delegation will leave on November 13 returning on November 16.
Expressions of Interest from those interested in participating should be submitted by the closing date of March 16th 2018.
Participating companies will be supported in their preparation for the mission and throughout the trip by their local authorities, and will directly benefit from the advice on offer from Councils' Business support teams.
Derry based Clinical Translational Research and Innovation Centre (C-TRIC) was among the companies who travelled last year. Commercial Manager of the Altnagelvin based facility, Barry Johnston, said the trip presented a great opportunity to see how other health and life science companies operate in other regions.
"There were a number of aims for the trip," Mr Johnston explained.
"Primarily to make and strengthen business connections in the region to enhance the profile of C-TRIC as a Contract Research Organisation and Bio-Incubation space. Massachusetts was of particular interest due to the region's focus on this industry.
"There is one company I met with in particular who I believe will lead to projects in C-TRIC, and there were a number of other contacts that may prove to be valuable in the medium to longer term.
"Our connections with the area should evolve as we continue discussions with companies based in that region," he added.
Anyone interested in finding out more about the Ireland North West Trade Missions should contact: Rosalind Young/Adam Goodall at Derry City and Strabane District Council investment@derrystrabane.com 02871 253253; Michael Tunney/Joanne Kilmartin, Local Enterprise Office, Donegal County Council, michael.tunney@leo.donegalcoco.ie 00353749160735
Tags: