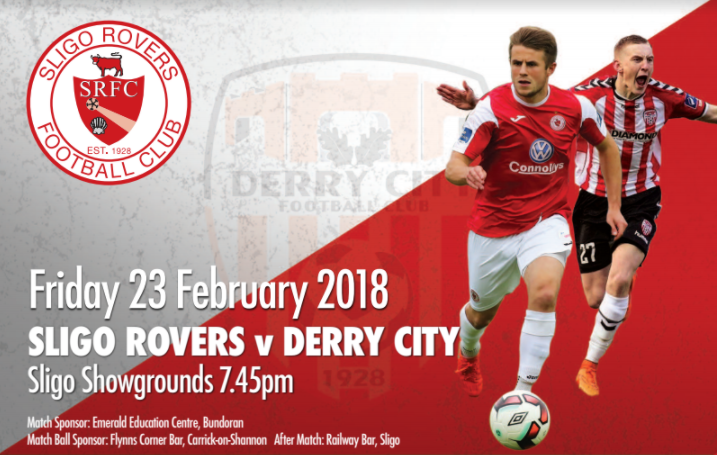 SLIGO Rovers have confirm the club has received a request from Derry City to swap its SSE Airtricity League fixture on Friday 23 February with a later game due to the Brandywell being unavailable.
Rovers were scheduled to play their first away game of the season later this month but with the Derry venue's redevelopment not yet complete, no stadium was available to accommodate the game.
In a statement, Sligo Rover said : "It led to the Bit O' Red being asked by Derry to swap the game for the home fixture in August and with little other options available to explore, we have agreed to facilitate the request.
"The game will still take place on Friday 23 February, now in The Showgrounds, as we are also set to face Cork on the Monday 26 February.
"The fixture on Saturday, August 4, originally scheduled for The Showgrounds will now be played on Friday, August 3, in The Brandywell."
Sligo Rovers chairman Martin Heraghty said: "Manager Gerard Lyttle will explain the change it brings from a footballing point of view, but there is a challenge for us in that our supporters face three home games in nine days and we are keen to bring big crowds to The Showgrounds for our opening matches.
"In particular facing Derry on a Friday and Cork City on a Monday means a lot of cost for our fans over one weekend. These are two big matches.
"We also now face a period of one home league game in 10 weeks from July to September. We had a similar period last year and it caused significant problems financially, although there could be some FAI Cup games in the period depending on our progress.
"But due to the circumstances, it was something we felt we had to agree to. We will plan, we will do our best and we will also use the quick fire run of home games to bring excitement to The Showgrounds.
"The #bitored3000 campaign is gathering pace. We want to bring life to The Showgrounds, the type of excitement we haven't seen in a long time. The season is upon us and we have a feast of football to look forward to in a short space of time. We will try to use the opening stage of it to our advantage."
Lyttle added: "It's a good thing hopefully. When you get the fixture list you want to start with a home game. You try to get a good crowd, your new players settle in. Now we have three to start with.
"I don't think it adds an extra pressure to pick up results early on because that pressure is always there. It is pressure you put on yourself. It comes with the territory.
"Likewise the run in August of a month of away matches in the league will be something we just have to tackle.
"I wasn't here for the first game last year obviously but it was everything you don't want in an opening match.
"It kills confidence and we'd like to build momentum and have our fans get to see a very different team to that day in Limerick. We're working every moment of this pre-season to achieve it and see where it can take us for when the second and third games come around."
Tags: