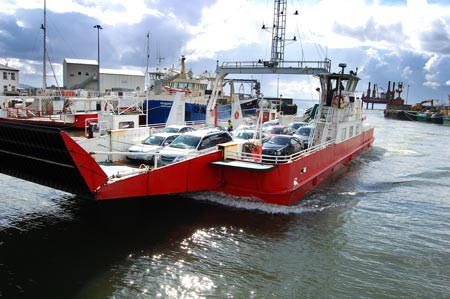 THE cross-border Lough Foyle ferry service between Greencastle in Donegal and Magilligan in Co Derry is back in operation after a seven month absence.
The ferry carried its first passengers on its first sailing at 8am on Wednesday of this week.
New owners Frazer Ferries say the service will operate a continuous shuttle service between 8am and 8pm from now until Saturday.
Managing Director Paul O'Sullivan said the hours will be extended from 7am until 10pm from Saturday.
"We're very optimistic about the service, and we're very keen to promote the linkage between the Wild Atlantic Way and the Causeway Coast."
The service, which had previously been part-funded by former Limavady Council and the Donegal County Council had been operating since 2002.
Former operator Foyle Ferry Company Ltd stopped the service last November.
It did not renew the contract for the summer season and Limerick-based Frazer Ferries bought the vessel.
Mr. O'Sullivan believes the service can provide a vital link between the Wild Atlantic Way in Donegal to the Causeway Coast, the Giant's Causeway and Glens of Antrim route.
"We see the ferry as having a great future and we think by developing that and providing a more continual service, at a little bit of a lower price point, that it has a lot of potential," said Mr O'Suillivan
"We wouldn't have taken it on if we didn't feel it had lots of potential."
Tags: