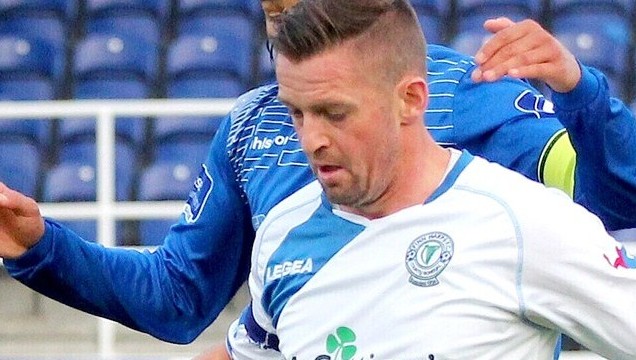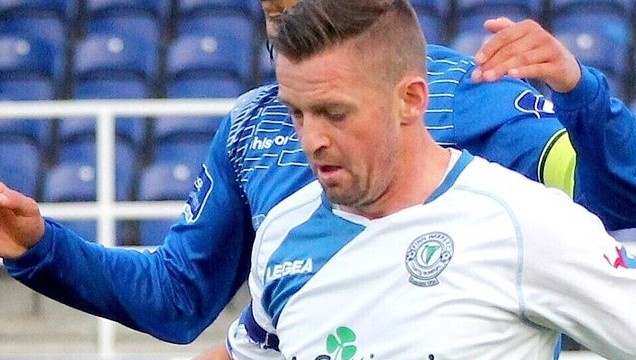 EXCLUSIVE: Finn Harps captain and Donegal U14 Schoolboys manager Kevin McHugh has been left bewildered by Derry City's decision to start-up a 'Satellite Centre' in Killygordon.
McHugh who played for Derry City said the decision by his former employers was baffling – and added that their decision only indicated further proof that schoolboy football in Donegal is very strong at present.
In an exclusive interview with Donegal Daily, McHugh said, "Speaking as a County Manager and someone who knows the ins and outs of the Finn Harps Academy and Donegal Football in general, we try to do things properly out here and we are improving our structures and coaching methods in a dignified manner.
"The coaching these kids are receiving at Finn Harps and within the county set-ups are second to none from highly qualified and experienced coaches.
"There has also been a huge improvement in the quality of coaching within local clubs all across the county"
McHugh said that he felt it's embarrassing that Derry City don't have their own Academy in their own city – and said they want top Donegal talent due to the strength of schoolboys football in the county at present.
McHugh added, "The whole reason Derry City are crossing the border, is because Donegal Schoolboy football is so strong because of all the years of hard work from people out here.
"Would Derry City people be angry if Finn Harps, Sligo Rovers or Coleraine set-up shop in Derry? Of course they would be, and rightly so.
"Will this move do anything to solve their own problems within the city of Derry?
"I doubt it very much, I'd say this will anger most good football people in the city and furthermore you could see even more boys heading to Donegal to play schoolboy football."
McHugh was also critical of Derry City manager Kenny Shiels who said in an interview with The Derry Journal in the past few days, that Derry were 'ahead of the pack' and needed to stay there.
"If not having your own Academy in a city the size of Derry is 'staying a-head of the pack' then I think our progress to date, is commendable to say the least.
"Will setting up similar Academies within County Derry cause issues? I'd imagine Limavady United, Institute, Maiden City and Coleraine FC would have something to say on this matter."
McHugh feels the impending move to launch their 'Satellite Centre at the home of Curragh Athletic FC smacks of arrogance – and accused the Derry hierarchy of piggy-backing on the good work being done within Donegal.
McHugh continued, "They're not the only Senior club in the Northwest, and to try an piggy-back of Donegal and Inishowen's great work to date, and not to bother working on their own structures is down right lazy to say the least.
"We as a county set-up and at Finn Harps FC can only look after our own set-up and keep improving on the outstanding work and structures within our county so kids have every chance of a career in Senior football.
"In life in general, you can only try and improve things as you go along, learn from past mistakes – and I am confident that the people in charge of Finn Harps, Donegal Schoolboys and the footballing community within Donegal can see through their tactics and make up their own mind."
Regarding Finn Harps pre-season preparations, McHugh admitted the adverse weather conditions have been problematic – but spirits are high within the squad and everybody is excited for the forthcoming season.
McHugh also added that consolidation in the Premier Division would represent a bigger achievement that gaining promotion last season.
"Pre-Season has been ticking along nicely, the weather hasn't helped matters, but the staff and players are knuckling down and getting on with things.
"Hunger is the key word again for us this season, and if you can have that spread across the dressing room it can only be good for the team and clubgoing forward"
Harps begin life back in the top-flight with a North-West derby with arch rivals Derry City, and with the on-going row of the 'Satellite Centre' – it certainly adds even extra spice to the fixture.
"Yeah, we could not of asked for a better opening fixture, everything we do is geared for March the 4th, but our priorities and Derry's are completely different.
"I don't care if they create 50 x 'Satellite' Centre's, if they are not playing European football next season, the fans will see the season as a failure, were as the budget we are working off, if we were to stay up it would be a better achievement than last year's promotion."
Tags: