Tasty Tomatoes….let's make it happen!….
With Horticulturist Gareth Austin
Growing your own Tomatoes is a wonderful hobby, every part of it from sowing seeds, potting, planting, maintenance and feeding fills my taste buds with expectation for the harvest….beautiful sweet, juicy tomatoes, fresh from the vine with their distinctive aroma…a real highlight of summer for me and the kids.
Tomatoes are easy to grow, no seriously, they are! Once you get the fundamentals right everything is easy…they're like everything in Horticulture – Right Plant for the Right Place for the Right Person.
Variety selection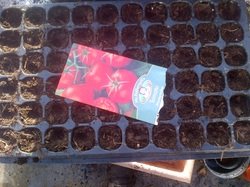 This is where it fills me with most anticipation, choosing the type, colour, taste of variety you want to grow. Do you want lovely sweet cherry tomatoes?, do you want meaty tomatoes?, do you want tomatoes for making pasta sauces with? Do you want them all different colours? Do you want reliability at the expense of yield? There is a few factors that can help you make your mind up. Look for the abbreviation AGM on a plant variety , this means "Award of Garden Merit" and is attributed to a particular variety by the Royal Horticultural Society (RHS), these guys trial countless varieties year upon year and then award this AGM to varieties (everything from trees to climbers to fruit) which prove to be very effective at what they claim to offer- an example of this is Tomato 'Suncherry Premium 'AGM . For uniformity of crop look for the mark "F1" on the variety name, an example would be Tomato 'Sungold' F1, the F1 means that it's a hybrid variety, which has been bred for uniformity of a particular desirable trait by plant breeders. John Reilly, GreenHill Farm, advises that a great variety for organic tomato growing is "Gardeners Delight, this is a small cherry which gives very little work", "Also Yellow Submarine, which is a yellow cocktail, and will crop over a very long period", "One year I had 22 trusses on a yellow submarine and it fruited till February the following year"
Soil
Tomatoes are both hungry and thirsty plants, they like a rich soil, one which is rich in organic matter and one which has a lightly acidic pH. Also Tomatoes are the same as Potatoes in that its really bad practice to grow them in the same soil every year, indeed you should avoid growing them in the same spot for more than 1 year in 4 – reasons for this is to prevent disease build up in the soil and prevent soil mineral depletion – easiest way to do this is to move them from bed to bed in your polytunnel or grow them in big pots (at the end of the season the contents of the pot can be added to the compost heap or spread on the soil between your garden plants). Don't grow tomatoes in straight peat-based compost – it drains too quickly for the tomatoes – use a soil based compost (Look out for compost labelled 'enriched with John Inness', or use the Donegal produced Living Green Humus rich compost mixed with soil from the garden).
Fertility
Tomatoes are hungry plants, they'll eat everything you give them…and then some! However over-feeding isn't a great idea – like roses if you feed tomatoes too much they'll get soft and more prone to diseases such as Blight and pests such as greenfly. After planting and every month or so put some fresh seaweed on top of the soil – this will slowly leach goodness down into the plant. If you're using Tomato food apply a liquid feed to the Tomatoes every fortnight after the first clusters of flowers (called a truss) starts to form wee fruits, or how about making some easy-peasy liquid fertiliser out of Comfrey? (check out www.garethaustin.com) for lots of Comfrey chat. John Reilly uses seaweed as a matter of course "It contains everything the plants need", "as an island why not make great use of an abundant resource". It's important that the fertiliser you use is high in Potassium, this mineral helps to encourage disease resistance and is an essential element in the development of flower and fruits. If you're growing tomatoes in a raised bed then work in some chicken manure pellets or some seaweed dust prior to planting as a good base fertiliser.
Pollination
Heat is the enemy of tomatoes, if the polytunnel or greenhouse is too hot (above 30C) and dry the flowers will come on – and fall off without being pollinated, also leaves of plants will curl up and the growth will be slower. It's important the greenhouse or polytunnel is well ventilated, doors and windows are left open during the day – this brings pollinating insects to the party, but also brings in more CO2 – vital for photosynthesis and takes stagnant air (and plant produced oxygen) out. Try to keep the humidity level high, high humidity will give you better growth and better pollination too. If you're struggling for insects then regularly go over your plants tickling the flowers with a feather duster.
Pest & Disease control
Variety selection is your first port of call with any plant, many varieties possess especially good disease resistance, so this is always worth looking out for. Ventilation is important – as mentioned above fresh air takes stagnant air with it. Crop Rotation is vital and Hygiene – Tomato blight will live in the soil, on tools, on wooden edging, in bamboo canes from year to year, so a good clean polytunnel is vital and good clean tools is equally important. Always plant some Marigolds beside your tomatoes, these will bring beneficial insects to the party, controlling the amount of feeding will reduce pest occurance and if you do need to spray with some insecticide to control greenfly then use some Pyrethrum based spray (such as 'Herba Vetyl' – available from GreenHill Farm), this is an organic insect spray which kills aphids on contact, not harming any pollinating insects. A copper based fungicide, such as Bordeaux Mixture, is ideal for blight control on Tomatoes – available from good garden centres
Watering
Tomatoes will drink a lot, and its important they're given consistent amount of water- especially when they're in fruit. If you give them big flushes of water and let them go dry and then another flush of water you will get 2 problems – splitting fruit and Blossom End Rot in the fruit. Blossom End Rot is caused by a lack of calcium getting to the fruit, caused by this inconsistent watering.
Tomatoes are shallow rooted so they will dry out quickly, best way to water is to put in a tub/bottle beside them and fill this regularly – say every 2/3 days in the summer. A good indicator plant to put beside your tomatoes are the bedding plant bizzy lizzies, these wilt quickly and when you see these wilting you'll know your tomatoes need watering (clever wee trick).
John Reilly suggests, "the use of the seaweed encourages a stronger more advantageous root system, so you'll need to water less". Watering should always be applied to water and not to leaves, wet leaves encourage disease and wet flowers means no fruit, so always water soil and not plants! It's always good practise to water tomatoes enough, but not too much, if you give them too much the fruit will be very 'watery' in taste so by keeping them watered just enough you get the best flavour – the salt in the seaweed we mentioned before will contain some salt, and this salt will help to dehydrate the tomatoes, thus giving them less water in the fruit, but more taste!, if you don't have access to fresh seaweed then try to put in a tiny bit of salt in the water (say a 2% solution) and just taste the difference!
Pruning and pinching


Most varieties of tomatoes we grow are 'Cordon' types, and these you pinch out the side shoots and then top them when they have 6/8 trusses on the the plants, supporting the growth with rope or a stick. However the height you grow them to will determine the spacing between plants, if you're growing them to 6' tall you'll need to space them 3' apart, if you grow them smaller you can plant them closer and fit more plants in, so your return of fruit for the given area will be just as good. Ring Culture is a great way of encouraging a thicker main stem – thus giving you more potential for water and fruit to get up into the plant, and this will encourage a deeper root system which will be easier to manage for watering and feeding.
We'll do another update on the Tomatoes as the season progresses.
N.B. John Reilly is a pioneer of organic gardening and growing, and offers a wide range of organic pest & disease control and fertilisers as an agent for the FruitHill Farm Product range, John can be contacted on (00353) 087 9650522.
Last weeks feature piece on Roses was very well received, and I managed to get a hold of a few great gardeners to ask them which rose varieties were popular in their garden centres over the past weekend.
First I asked Sophie Gallagher from The Flower Pot Garden Centre in Creeslough for her top 3 varieties, "Claire Marshall- Beautiful deep pink floribunda, very fragrant and free flowering disease resistant rose which was bred by the famous Harkness rose breeders.", "Roseraie de l'Hay- One of the rugosa roses, very healthy and resistant to blackspot, will make a large shrub about 4-5ft in height and spread. Produces double deep wine/purple very scented flowers followed by large red hips in autumn, an excellent rose for coastal areas as its extremely hardy and can tolerate salt winds" and finally "Felicite Parmentier- this is a very old alba rose with beautifully formed small double pink flowers which are extremely fragrant. This rose will grow well even in poor soil and shady sites."
And for some thoughts from the Derry area I asked Desmond Knox from Knox's Garden Centre in Campsie, "All Gold floribunda – slightly fragrant yellow flowers, medium size, bushy habit", " City of Belfast floribunda -medium size, clusters of red blooms for bedding or hedging" and "Happy Retirement floribunda -reliable pink flowers, soft scent, bushy habit, awarded RHS garden of merit"
Both Sophie and Robert advise that they have more of all these varieties in stock, ready for immediate planting and immediate enjoyment.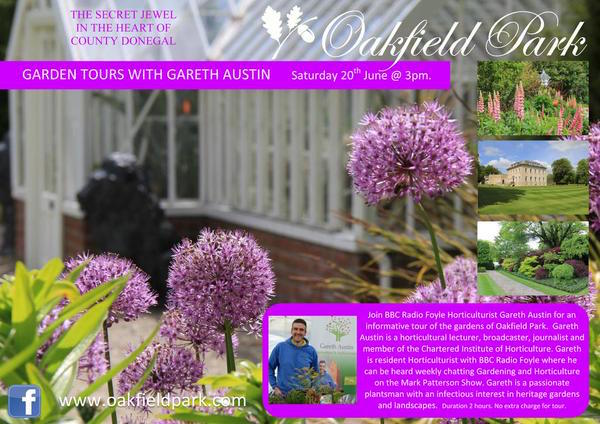 Come join me and say hello this weekend at Oakfield Park in Raphoe (www.oakfieldpark.com), where I'll be leading a free garden tour of the wonderful gardens. The tour starts at 3pm.
Next Week, Maintaining summer bedding plants and pots….
Gareth Austin is resident Horticulturist with BBC Radio Foyle, a member of the Chartered Institute of Horticulturists and lectures in Horticulture with National Learning Network. For more see www.garethaustin.com or join Gareth on Twitter @GardenerGareth .
Tags: