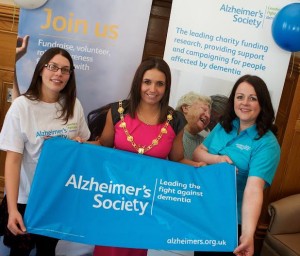 The Mayor of Derry and Strabane, Councillor Elisha McCallion, has announced that she will be actively supporting the Alzheimer's Society throughout her year in office, by selecting the organisation as her special chosen charity.
Each year the Mayor highlights the work of selected local charitable organisations and engages in a number of fundraising events including the Mayor's Ball and her special Flag days. This year Mayor McCallion will also be raising awareness by supporting events taking place through Dementia Week and a number of schemes including the Fit Family Challenge taking place in July and Mission Slim Possible taking place next January.
Announcing her chosen charity at a special launch in the Guildhall yesterday Mayor McCallion said: "I'm delighted to highlight the work being done by this extremely worthy charity. As I know from personal experience, the Alzheimer's Society provides an invaluable support network for the families of suffering from this debilitating illness, and the organisation deserves the ongoing support of the entire community.
"Dementia can affect anyone. My own grandmother is currently living with the condition so I have first-hand experience of how it can affect all those left to ensure their needs are best met. I hope that I can raise some much needed funds during my year in office, and I would encourage the public to lend their support to the campaign either through donations, or by volunteering some time at one of the events taking place throughout the year."
Director of the Alzheimer's Society, Bernadine McCrory, said: "We are delighted to have been chosen as the designated charity by the Mayor of Derry and Strabane, who will be fundraising for us during her term in office.
"The money raised over the next year will go towards providing vital services and helping people to live well with dementia in their local communities."
The public will have the opportunity to join in a number of events throughout the year raising money on behalf of the Alzheimer's Society, including:
Cross Border Half Marathon – Strabane – 

12noon

, 

Sunday 26 April

Jazz Festival Open Night – Guildhall Derry,

6pm

Thursday, 30 April

Dementia Awareness Week –  taking place 18th-23rd May
Dementia Roadshow – raising awareness and funds throughout the month of June
Memory Walk – The Mayor will start the Alzheimer's Society flagship fundraising event on 

Sunday 6 September

Waterside Half Marathon – 

Sunday 13th September
If you would like to volunteer for any of these events or be a part of the organisation's volunteer fundraising group, please contact Maeveen McNabb,Alzheimer's Society Community Fundraiser S&W NI on 028 8225 0103 or[email protected]
For more information on forthcoming events supporting the Mayor's chosen charity please go to www.derrycityandstrabanedistrict.com
Tags: