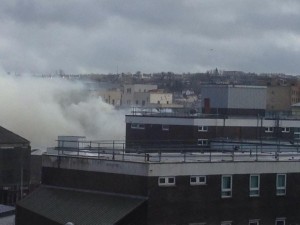 Breaking News: A huge fire at a commercial premises nears Queens Quay is causing traffic chaos.
Fire services and emergency personnel are at the scene of the fire which broke out earlier this afternoon at the Mandarin Palace Chinese restaurant.
Due to the fire the PSNI have been forced to close the area from Queens Quay roundabout to the Harbour Square roundabout.
That has caused traffic implications for road users in that area and the PSNI are advising all motorists to avoid the area.
Chief Inspector Andy Lemon says the fire appears to be in a duct within the restaurant. People have been moved from several flats as a precaution and have gone to Brook Park.
"This is a protracted operation and is likely to continue for some time. At the moment the wind is blowing smoke away over the Foyle and is not creating a danger. Pedestrians are advised to stay clear while the operation continues.
"At this stage a cause has not been established."
Tags: