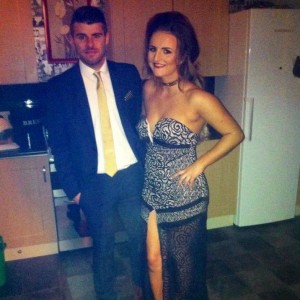 A DERRY couple's romantic getaway to Paris was wrecked after EasyJet refused to accept a passport.
Adam Clarke, 25, and Megan Meenan, 23, were due to fly away on Tuesday.
But their plans were halted because Adam's nine-year-old passport looked battered!
Megan told Derry Daily they had made it through security and were about to board the plane when the red-tape EasyJet staff intervened.
"A manager was called for four times and then this very young guy arrived, looked at Adam's passport and said he wouldn't be allowed to board," she said.
The couple has since lodged a formal complaint with the airline which had accepted the passport just last year.
The document still has a year to run.
To make matters worse, EasyJet is refusing to climb down over the incident, offering a £65 refund – and calling them Agnes and Andy in correspondence!
"I was so upset when the flight took off," said Megan.
The couple are out of pocket now £650.
A spokesperson for EasyJet said: "EasyJet works closely with the authorities and complies with their guidance to ensure the safety and security of all passengers and staff.
"EasyJet cannot allow any passenger to travel on their planned flight with documentation damaged to such a degree that its authenticity is brought into question. It is the passenger's responsibility to have suitable documentation for travel.'
'We would like to apologise for any inconvenience."
Tags: