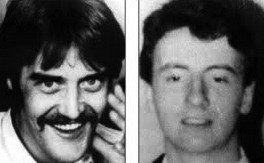 THE BRITISH Army and the PSNI are trying to block moves to hold inquests into the controversial shootings of two Derry men being held here in the city.
Danny Doherty and William Fleming were ambushed and executed by the SAS in the grounds of Gransha Hospital on December 6, 1984.
At the time of the shooting, the British Military of Defence alleged Mr Doherty was armed and that he and Mr Fleming were suspected of preparing to ambush an off-duty UDR soldier.
An inquest was held two years after the shootings but in 2010 the North's attorney general John Larkin ordered another hearing after finding that police documents had been withheld from the coroner at the time.
At a resumed hearing yesterday the court was told a legal advisor to some of the SAS members had not provided information to the coroner despite previous requests. He was given four weeks to do so.
Brenda Campbell, representing the families, said the relatives wanted the inquest, due to be held in November, to take place in Derry but the British Army and the PSNI were opposed to this for security reasons.
Mr Fleming (19) and Mr Doherty (23) were riding a motorbike when they were ambushed by the SAS and 14 Intelligence Company.
It was reported at the time that the pair had gone to the hospital in an attempt to assassinate an off-duty member of the Ulster Defence Regiment who was employed there, and had intended to carry it out during a staff shift change at 8am. The British were tipped off by a tout inside the IRA in the Waterside.
SAS soldiers rammed the motorbike, dislodging Fleming from the pillion seat and causing the motorcycle to go out of control.
Fleming was then approached by two other SAS troopers who opened fire and killed him, claiming subsequently he was armed and they considered him a direct threat.
The motorcycle meanwhile had struck a kerb and thrown Doherty to the ground, where he was fired on and killed.
Subsequent forensic evidence showed at least six bullets struck Doherty whilst he was on the ground while Fleming's autopsy showed he had four gunshot wounds to his head and 56 to his trunk and torso.
During the inquest into the shootings, the coroner stated Doherty had three gunshot wounds to the head and a further 21 shots to his body.
Following the killings, then Irish Minister for Foreign Affairs, Peter Barry stated that "in Northern Ireland, under British rule, it was the army who set the ambush – it was an ambush, nothing else. No attempt to arrest was made. The men were shot dead without any chance to surrender."
Speaking in the British House of Commons, SDLP leader at the time John Hume said: "This raises very fundamental questions as to whether the authorities have abandoned the rule of law, and whether we are now in a war situation."
Tags: