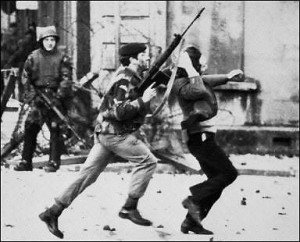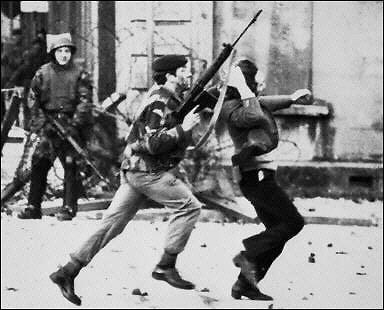 A RELATIVE of a man murdered on Bloody Sunday says he finds objections to a proposed new glass window memorial 'embarrassing'.
Four stained glass windows were to be installed at the Guildhall.
However some families objected to an image that showed some relatives of victims smiling following the release of the Saville report.
John Kelly, from the Bloody Sunday Trust, told BBC Radio Foyle that the objections were "embarrassing" and said he and five other families will withdraw support if the memorial is changed.
Sinn Fein and the SDLP have clashed over the issue.
Mr Kelly, whose brother Michael was murdered on Bloody Sunday, said: "I feel sad that I have to justify the window and its contents when tomorrow is the 43rd anniversary of my brother's death and all those who died on Bloody Sunday and to a degree it's embarrassing.
"This is nothing to do with politics whatsoever. I approached Derry City Council with other family members to replace the previous window, which was grotesque.
"All the families had an opportunity to look at the window. Afterwards people came and objected, it was taken on board and it's been changed since then.
"There's no jubilation within that picture. This is a beautiful piece of art on behalf of the victims of Bloody Sunday.
"If they want to put up an altered picture then I have informed Derry City Council that I want my brother Michael's face removed from the window. Five other families will do the same."
He said the final proposal was much better than an original proposal on which the names of five victims had been mis-spelled.
However Kate Nash, whose 19-year-old brother William was also murdered on Bloody Sunday, said she was one of several families to object to the image.
"The fourth panel has images of three of the victims on it and in the background there is a scene from the 15 June 2010, scenes of joy.
"Our contention is that it does not belong on a memorial window where we are depicting a tragedy that happened in 1972.
"It is not the place for those kind of scenes. It's inappropriate."
Tags: