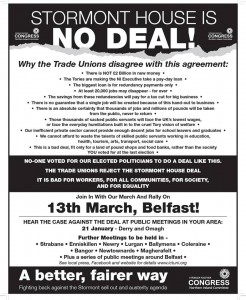 A LEADING trade union umbrella group in the North has blasted the the Stormont House Agreement as a "bad deal".
The Irish Congress of Trade Unions (ICTU) will be holding a public meeting in Derry on January 21 to raise public awareness to the financial agreement hammered out before Christmas by the five main Stormont Executive parties.
ICTU took out advertisements in the North's three daily newspapers this morning to highlight its opposition to the deal and alert the public to its day of protest.
The advert states: "The Stormont House Agreement is a bad deal all workers, for all communties, for society and for equality".
ICTU claims that money being offered by the government is not new money.
It said that at least 20,000 jobs could disappear under a government redundancy scheme.
The trade union umbrella group has organised a rally in Belfast on Friday, March 13 to oppose the deal.
Tags: