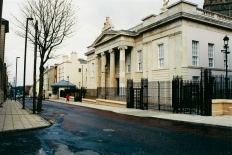 Three people, charged in connection with a £125,00o drugs find in Derry earlier this year, are members of a sophisticated crime gang in the city that has lost £2 million of drugs in the past year, police have told Derry Magistrates Court.
The three, a 44-year-old woman, and two men, aged 30 and 40, were charged with a number of drugs offences, including conspiracy to supply and being concerned in the supply of cocaine and cannabis.
The charges relate to the seizure of £125,000 worth of drugs by police in the city on 13 June this year.
Resident Magistrate Barney McElholm granted the three anonymity after being told one of the two men had a death threat issued against him by paramilitaries five years ago.
Opposing bail to all three, a PSNI detective told the court that on the date in question one of the two men was observed loading packages from the boot of a car into a wheelie-bin, allegedly owned by the woman,  and when searched it was found the bin contained cocaine and cannabis.
Alleging the driver of the car was the leader of the crime gang who has already appeared in court in connection with the find, the detective told the court police feared the three accused would reoffend as they had to "recoup" £2 million lost as a result of drug seizures by police in the city since September last year.
Revealing eight officers were involved in the June police operation, the detective conceded six were "not confident" to pick out the man seen loading the wheelie-bin while the two that did, failed to identify him.
The detective added the police investigation centred around "phone traffic" involving the alleged gang leader, pointing out so-called "dirty phones" used by all the accused leading up to the time of the seizure had not been used since.
Bail was refused and all three were remanded in custody to appear at Derry Magistrates Court via video link on 6 November next.
Tags: