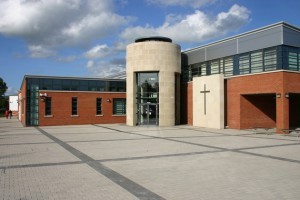 St Mary's College in Derry is celebrating its best ever "A" level results, with 100% pass rate and a staggering 97% of them achieving three or more A' levels.
The Specialist School in Science and Microsoft Mentor School has seen an increasing number of pupils studying STEM subjects and taking up STEM degree course in University.
Eighty per cent of almost 100 pupils who took A2s studied at least STEM "A" level which will help them choose pathways that will lead to employment.
Most of this year's leavers have already accepted their offers and are packing their bags to head off to a range of universities, to study degrees in subjects including engineering, biochemistry, radiography and nursing.
With over half of the students having studied IT, it is hardly surprising that some pupils are taking up degrees in computer science and digital film making.
Principal Marie Lindsay is delighted with this year's results.
She said: "It is such a privilege to watch these bright talented young people reach such high standards at 'A' level and compete successfully for places on high demand courses at University and further education colleges.
"I want to congratulate every pupil and their families on their great results.
"I would also like to thank all our staff, including staff in other schools and the many educational partners who have worked so hard to ensure we achieved our best ever A' level results."
Ms Lindsay concluded: "We are absolutely delighted."
Meanwhile, the college is also saying goodbye to its first boy pupil, Colm Quigley, who chose Northland Road school at A level so  he could study their very successful "A" level Engineering.
Colm has been accepted to study mechanical engineering.
St Marys College was the first school in Derry to offer an Engineering "A"  level and several schools have pupils attending the college to study the subject.
Tags: