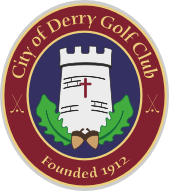 Competitions for junior members of City of Derry Golf Club will resume this Saturday, 10 May.
Entries should be given Sam or Sean in the professional's shop.
All cards mudt be returned to the shop and will count for handicapping purposes.
Winners will receive pro shop Vouchers.
Prize Draw
A pair of Footjoy golf shoes (lady's/gents) are offer as a prize to be won in aid of funds for junior golf at City of Derry.
Tickets are priced at £1 each and can be purchased in the professional shop or from Eamon McCourt (07542911590).
The draw will take place in the clubhouse on Sunday 25 May next.
Tags: