Funding of £37,000 for works to improve a pathway through Derry's Fountain Estate, has been announced by Social Development Minister.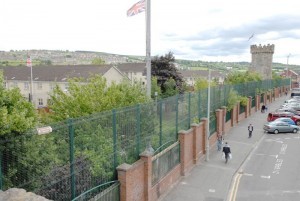 The scheme will improve the existing seating, lighting and planting along a pathway linking New Gate to Bishop Gate through the estate.
Signage will be erected to promote the tourism potential of the City Walls in this particular location.
Explaining the significance of the funding, the Minister said Derry was one of the "finest examples" of a walled city in Europe.
He added: "The section of the walls which run within the Fountain estate, includes a small gateway and tunnel known as a sallyport which is believed to have provided safe passage to St Columb's Cathedral during the Siege."
He concluded: "With 100,000 people visiting the Walls and St Columb's Cathedral each year, this location has obvious tourism potential which has not been fully exploited. The upgraded pathway will also be of benefit to local residents who use it to access the primary school and other local facilities."
Tags: