Derry's young entrepreneurs are preparing to open for business at the upcoming Young Enterprise NI North West Trade Fair.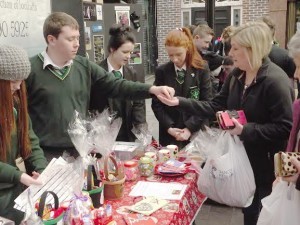 Local school children have been preparing for the event since September and will make their products available at the trade fair taking place in Foyleside Shopping Centre on Friday 31 January next from 10.00am to 1.00pm.
Student companies from Foyleview and Belmont School, Lisneal College, North West Regional College, Cathedral Youth Club, Limavady Grammar School, St Brigid's College, St Cecilia's College, St Columb's College and St Mary's College are all making final preparations to present their businesses and open for trade.
Under guidance from volunteer business advisers, the students are developing key skills in business management including entrepreneurship, leadership, communications, human resources and sales.
The Young Enterprise NI Trade Fair offers students the opportunity to test their skills as they sell their products to the general public.
Young Enterprise NI chief executive Carol Fitrzsimons said its trade fairs formed an important part of a young person's development through Young Enterprise NI programmes.
She added: "We encourage all the community to get involved and show support for their local young people.
"This is a great opportunity to come along and browse the many new business ideas and innovative products that local young people have spent months creating. It is a fun and exciting day for shoppers and an opportunity to see, first hand, the next generation and local business leaders."
The series of trade fairs will be an excellent opportunity for shoppers to shopur their local young people and Northern Ireland's future entrepreneurs,
Young Enterprise NI is a charity and is part-funded by the Department of Education.
Tags: