This year will see the first ever  Methodist Church in Ireland (MCI) fundraising trek to Everest Base Camp.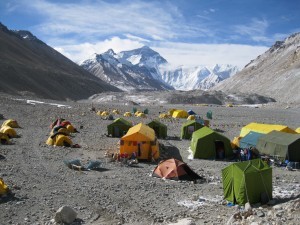 And they are looking for 20 enthusiastic and willing participants to join them on what will be a "spirit-filled pilgrimage" to the base camp of the worlds highest mountain.
The trip will entail overnight stays and sightseeing in the magical ancient city of Kathmandu and 14 days consecutive trekking in the stunning surroundings of the Himalayas.
No previous trekking or hiking experience is required, all that's needed is a good level of fitness, a sense of adventure and some determination!
The trek is being organised by the Methodist Church in Ireland and will have a considerable spiritual element, with each day containing devotion time, creative prayer and "praise to the Creator."
All fundraised money will go towards specific projects identified by MCI's World Development and Relief Fund, Home Mission Department and Methodist Missionary Society in both Ireland and Nepal.
See more at: http://www.irishmethodist.org/news/14-november-2013/methodist-fundraising-trek-everest-2014#sthash.sWrzCckk.dpuf.
Tags: