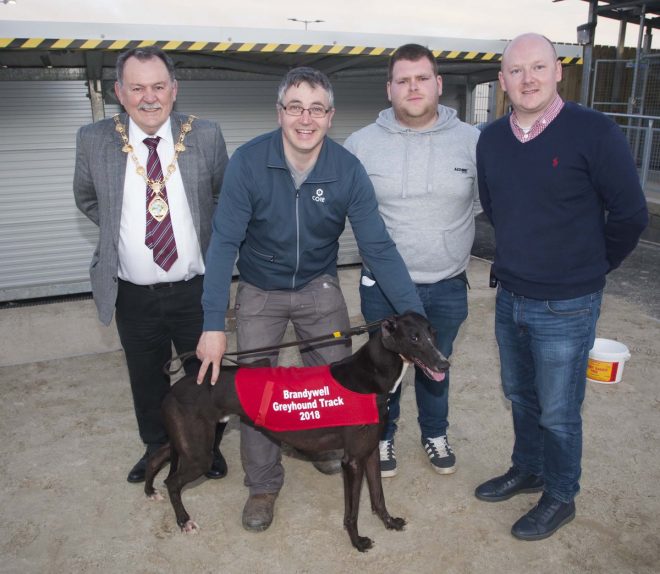 MAYOR of Derry City and Strabane District Council Cllr Maoliosa McHugh joined local greyhound dog racing enthusiasts from across the North West last night at the Brandywell, for the first official race meeting since the opening of the new dog track.
The new stand-alone greyhound dog track is a key element of the £7m investment by Derry City and Strabane District Council and the Executive Office for the redevelopment of the Brandywell Stadium.
The Mayor was invited by the Brandywell Greyhound Racing Company to be part of the special event and to mark the momentous occasion that saw racing return to the Brandywell after over 16 months' relocation.
Welcoming the Mayor to the event, Daniel McLaughlin from the Brandywell Greyhound Racing Company said after weeks of carrying out time trials on the new track and working with the Council and other organisations to get the work completed, the company is delighted to be hosting its first race meeting.
"This is a hugely momentous occasion for the company and the McLaughlin family, as well as everyone associated with greyhound racing in the North West. It makes all the hard work, patience and perseverance worthwhile.
"We are delighted that the Mayor took time out of his busy schedule to come along and be part of this celebration and to see at first hand the fantastic facilities we have here.
"We are delighted that the culture and heritage of racing will continue to live on in Derry for many more years to come," he said.
Mayor McHugh said he was hugely impressed with the facility and was delighted to attend the first official race in the new facility.
"I had the pleasure of attending one of the recent trials when the facility was first opened and was delighted with the warm reception I received.
"The feedback from the greyhound community to the new facilities has been very positive and there was a really fantastic atmosphere last night. Everyone was in a celebratory mood especially among the winners.
"The new greyhound track is an important part of this significant strategic capital development project for the Council and we are delighted that the work is complete and the user groups are happy with the end result.
Concluding Daniel McLaughlin said the investment had brought greyhound racing into the 21st century and secured the long-term future of the sport in the region.
"We are hugely proud to be associated with this capital project and to have usage of the top class facilities that are available. We look forward to another successful season and hope that the new track will attract a new audience into dog racing for the future."
The Brandywell Greyhound Racing Company will continue with their regular race nights every Monday and Thursday. Private trials, can be arranged after meetings on race nights and are often scheduled to take place on Saturday mornings from 9 am to 11am.
Tags: