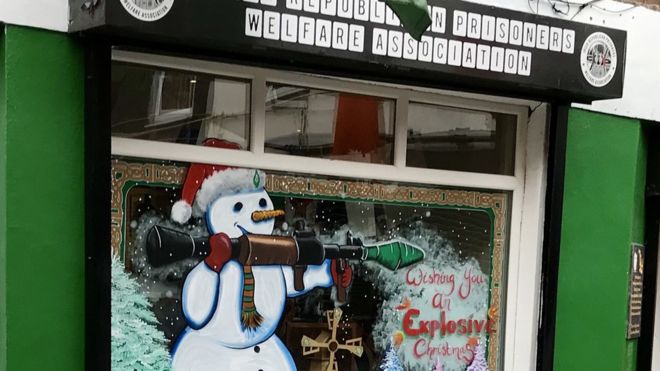 A man faced Derry Magistrates' Court today charged with allowing images to be displayed of a snowman holding a rocket launcher and one of a dead police officer.
Joseph Patrick Barr, 29, of Little James' Street, has been charged with two counts of permitting the display of provocative images to months ago at a shop in the city.
The images appeared at the office of the Irish Republican Prisoners Welfare Association which supports violent dissident republican inmates and their families.
The Junior McDaid House building on Chamberlain Street and also houses the 'New IRA's' dissident republican party Saoradh and a youth organisation.
The first offence was committed on October 5, 2016, when he caused or permitted the display of an 'offensive poster' at the office.
The poster was said to contain 'a graphic picture depicting a nude male with a gun and literature with reference to a deceased officer with intent to provoke a breach of peace or public disorder'.
The charge states that on October 26, Barr permitted the display of a snowman holding a military RPG weapon with the message: 'Wishing you an Explosive Christmas' at the same Chamberlain Street office with intent to provoke a breach of the peace or public disorder.
Barr denies both charges.
His case was adjourned until February 21 to the same courthouse.
Tags: