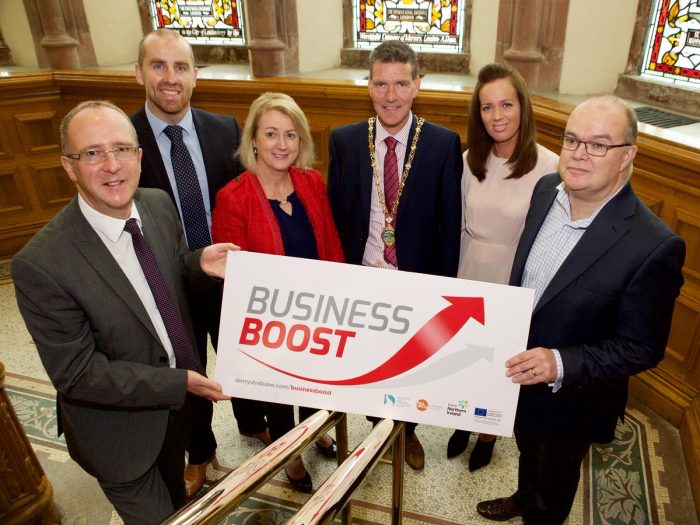 A Business Engagement Panel that has been established by Derry City and Strabane District Council to develop a two-day supportive relationship between Council and locally based business support organisations, held its inaugural meeting this week at the Old Fire Station, Hawkin Street.
Funded by Invest NI and the European Regional Development Fund through the Investment for Growth and Jobs Programme (2014-2020), Business Boost is an innovative project aimed at assisting Council to provide support for the creation of new sustainable jobs in the area and work to strengthen the local business base by assisting businesses to become more competitive in indigenous and export markets.
The Business Engagement Panel is made up of representatives from Invest Northern Ireland, Labour Relations Agency, InterTradeIreland, Ulster University, North West Regional College, Enterprise North West, Strabane Enterprise Agency and DCSDC.
It will meet regularly in relation to the delivery and co-ordination of the Council's new flagship business support and growth programme entitled Business Boost that has been set up to offer support and assistance to enterprises in the Council area that employ fewer than 50 people and have an annual turnover of less than €10m.
Welcoming the establishment of the Business Engagement Panel, Louise Breslin, Business Development Manager with Derry City and Strabane District Council, said the collaborative approach with local stakeholders is key to the successful delivery of the Business Boost programme.
She said: "Our first meeting here today was very positive and very productive with everyone very keen to work in partnership to promote business support programmes and events that will help increase the number of start-up and growth enterprises in Derry and Strabane, and continue to offer support and assistance to improve the survival rates of SME operations in our Council area.
"We believe that by working together we can maximise our budget allocations and identify more businesses that we can assist as well as improve on our collective outputs and deliverables.
"We are delighted with the response we have received to date from our stakeholders who see the benefits of working together so we can develop bespoke programmes that will enhance business capability and encourage growth and expansion into new markets.
"We are confident the Business Engagement Panel can use its experience, knowledge and creativity to help promote increased entrepreneurial activity that will boost economic growth and ultimately lead to new jobs and the development of new skills in the city and wider region," she added.
The programme aims to provide a range of services that will provide accessible, needs-driven business support for businesses and work to promote business growth and innovation, which have been identified as a key action within the Council's Integrated Economic Development Strategy and the Strategic Growth Plan.
Among the key delivery actions of the Business Boost programme is to create 400 jobs, recruit up to 600 businesses to participate in the programme and deliver over 1300 days of mentoring and 20 workshops.
Further details on Business Boost is available on the Council website at www.derrystrabane.com/businessboost
Tags: