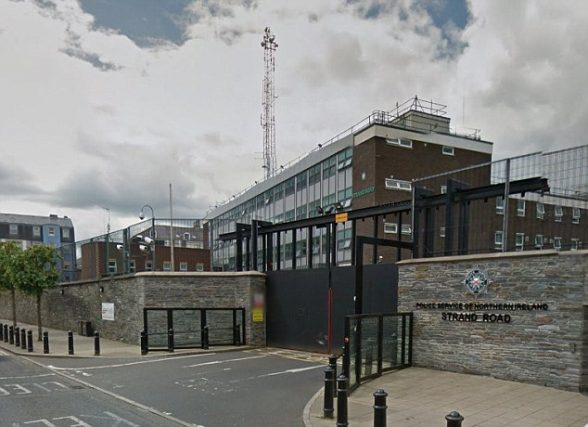 THE PSNI is in the dock over shocking allegations of sexualised touching and harassment of female civilian staff in Derry police stations during a three year period.
A senior lawyer said the women's complaints were "brushed under the carpet" amid misogyny and male chauvinism within the PSNI.
Counsel for a civilian worker suing over claims that an older detective subjected her to unwanted contact said the force's investigation amounted to an "abject" failure in its responsibilities.
Liam McCollum QC said: "It was a complete dereliction of the duty and obligation of a major employer in the 21st Century."
The High Court heard three other women made allegations of inappropriate behaviour against the same detective.
Mr Justice Burgess was told of incidents in which:
* one woman had her backside slapped by the detective;
* she was told to bend over a desk for a spankingl
* another had her thigh touched on a works night out.
Administrative assistant Sinead Hampson, the only one of the four to make a formal complaint, is seeking damages against the PSNI
The alleged unwanted contact occurred at stations in Derry between 2009 and 2012.
Ms Hampson, 37, claims Detective Constable Ronan Sharkey subjected her to unwanted sexualised physical touching, as well as harassment and bullying, the court heard.
Mr Sharkey, now a Detective Sergeant, denies her claims and those made by the other women. He never faced any prosecution.
But a judge was told that an internal disciplinary process resulted in a finding that he breached Ms Hampson's integrity by placing his hand on her hip.
He was cautioned and fined £250.
Setting out the plaintiff's case, Mr McCollum claimed the detective repeatedly put his hands on her shoulders during incidents in work.
Such physical contact between serving police officer 20 years older than her was completely inappropriate, counsel said.
"Mr Sharkey is probably old enough to be the plaintiff's father," he insisted.
"In different circumstances would it be appropriate for an older male barrister, for example, to be placing his hands on the shoulders of a younger female barrister?
"The motive behind it isn't important, the question is whether this is appropriate, proper behaviour within a workplace."
During opening submissions Mr Justice Burgess heard it was no answer to say Ms Hampson didn't object to what was allegedly happening.
A reasonable employer should have put an immediate stop to any such conduct.
Although police chiefs were said to have separated the detective from the plaintiff, Mr McCollum said that wasn't enough.
"Mr Sharkey was interviewed and talks about (being) touchy feely – touchy feely has no place in the workplace whatsoever," he continued.
Three other female members of staff were said to have alleged similar behaviour.
One claimed in a statement that Mr Sharkey approached her on a work night out, put his hand on her upper thigh and remarked on the tights she was wearing.
In a second alleged incident she described him coming up behind her in a CID office and putting his hands on her hips, adding: "I immediately froze."
Another woman made three allegations of inappropriate behaviour.
She claimed Mr Sharkey slapped her on the backside in work, told her at one stage to bend over a desk to be spanked, and also pulled her towards him by putting his arm round her waist.
He denies all the allegations against him of unwanted or inappropriate physical contact with the women.
Mr McCollum argued that even if those women didn't want to go though the ordeal of an investigation, their employer was under a duty to take action and stamp out the alleged behaviour.
"What they described was entirely unacceptable, inappropriate, abusive behaviour in the workplace," he said.
Instead, he claimed, the PSNI did nothing about the other three women's statements after being informed they don't want to make official complaints.
"That is not just a bad response from an employer, it's an utterly deplorable, appalling one," Mr McCollum claimed.
"It's very hard not to be driven to the conclusion this is male chauvinism around women… it's just going to be tolerated or brushed under the carpet."
Pointing out that he was not referring to the force as a whole, the senior QC: "It actually amounts to sexism or misogynism.
"It's something that has emerged in relation to this particular branch of the police at this particular time."
He also submitted: "Any employer has an obligation to ensure the workforce behave appropriately, within the confines of the station and anything to do with work events or socials.
"That duty is much higher when the employer is the main law enforcement agency in the country."
The case continues today.
Tags: