A DERRY asthma sufferer has turned her life long love of candles into her very own bespoke business.
Now former beauty industry worker Sinead Connolly is lighting up the world with her organic range of candles that can safely burn for up to 100 hours.
And Sinead can rightly wax lyrical about her 'Bow-tique' business which has blossomed from its days it was being run out of her spare bedroom.
She explains: "I love, love, LOVE candles!
"For as long as I can remember I've collected candle; requested them for birthdays; special occasions and often spent my last penny on one when passing a gift shop or high street store…
"The only problem was that I could never light any of them and fully enjoy their aromas as I was an Asthma sufferer.
"I started making organic candles as a hobby a couple of years ago. I turned my guest bedroom into a studio and quickly realised that my passion for candles was going to play a much bigger role in my life than just a hobby."
Sinead says she had worked in the beauty industry for the past ten years and had bought and sold many spa and beauty products.
"This afforded me the experience the take my hobby one step further and achieve my dream of owning a candle range," she adds.
"I realised that there was a demand for luxury organic candles.
"Since most of the candles for sale in high street stores are mostly paraffin wax candles, I did extensive research to the health benefits of organic candles and was astounded by the dangers of paraffin wax candles.
"This made me even more determined to share my findings with other candle lovers!
"I wanted to offer a high end product with stylish packaging to really compliment the beautiful spa aromas that I selected for each candle."

She says she has created what she believes is a "gentle balance of essential oils to create beautiful room filling scents".
"Each candle offers up to 100 hours burning time. I chose the name "Bow-tique" as it's a boutique candle with a chic glass jar, striking silver lid and beautifully handcrafted bow.
"Bow-tique candles are made with 100% organic plant wax, environmentally friendly and suitable for asthma; allergy sufferers and even babies.
"Take your candle & light the world!"
The range Sinead offers include:
Calming– Grape and wild fig
Unwind– Lavender, geranium and tea tree
Refresh– Lemongrass, lemon and lavender
Uplifting– Neroli, geranium and Clementine
Invigorate– Lime leaf and ginger
To find more visit: www.bow-tiquebysinead.co.uk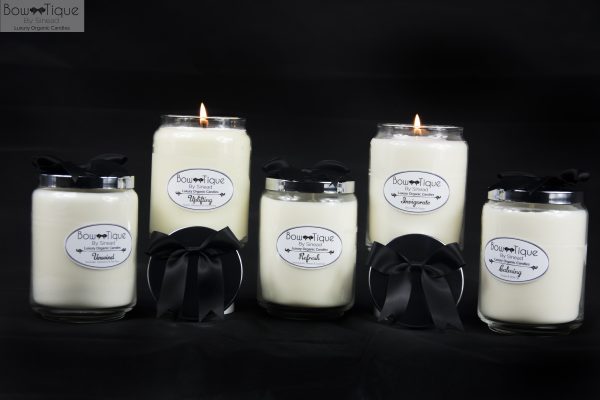 Organic Candles from Bow-Tique by Sinead. Shipping to UK and Republic of Ireland. Buy Candles Online.
E: bow-tiquebysinead@outlook.com
FB: Bow-tique BySinead
Inst: bowtique_by_sinead
P: 07591 049 010
Tags: