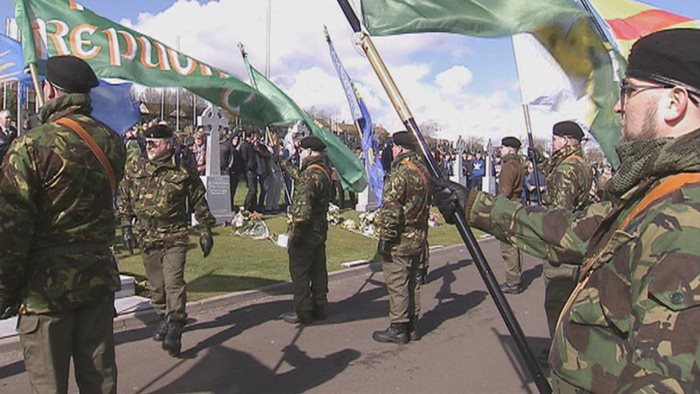 THE police in Foyle have defended its low kepy security operation in Derry on Easter Monday during a violent dissident republican parade.
It is estimated around 2,000 people took part in the rally from Free Derry Corner in the Bogside to the City Cemetery.
The demonstration was organised by Saorah, the political wing a group calling itself the 'New IRA'.
He is the brother of Colin Duffy who is suspected by the security forces of being a senior member of the 'New IRA'.
No arrests were made yesterday but police used video cameras to record the proceedings.
A PSNI spokesperson said: "A proportionate and appropriate policing operation is implemented for all parades.
"The PSNI will review all evidence gathered and where offences are identified, will present reports to the Public Prosecution Service with a view to holding individuals to account."
The police in Derry had come under criticism from unionists over its low key approach to the parade and no arrests were made of people wearing paramilitary style clothing.
A 30-strong colour party dressed in paramilitary-style clothing, berets and sunglasses marched in formation through the Bogside yesterday afternoon to mark the beginning of the parade billed as 'Unfinished Revolution' which proceeded to the City Cemetery.
At the cemetery seven children laid lilies in honour of the seven signatories of the proclamation before wreaths were laid by representatives of Saoradh, Irish Republican Prisoners Welfare Association and Eistigi.
DUP MP Gregory Campbell said that both the PSNI and the Parades Commission should respond to yesterday's events.
"They certainly need to monitor these types of parades more closely than they have done in the past," he said.
"People in paramilitary garb, hiding their identity behind scarves and darkened glasses, clear paramilitary paraphernalia, it was obviously a paramilitary display that the police should be examining very closely.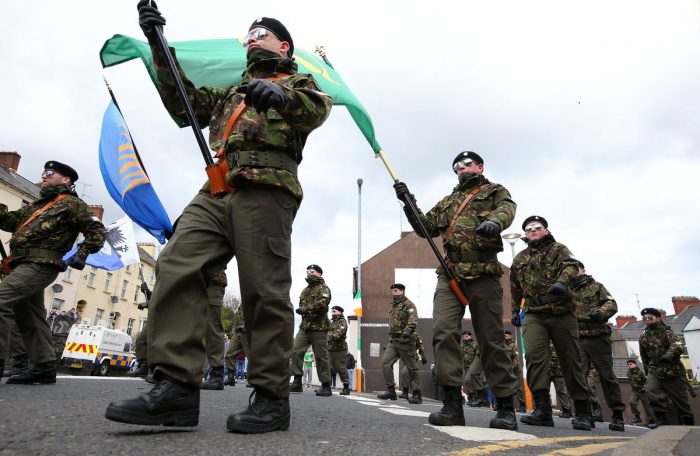 "Action must be taken after the event and sufficient restrictions put in place for future events so that it doesn't occur again.
"With regards to the rhetoric spoken, obviously given Mr Duffy's background, that language in the eyes of many people would be deemed to be a threat.
"Again the police should be looking to see if that is a threat, is it a breach of the peace and if it has then action has to follow."
Ulster Unionist councillor Mary Hamilton who was injured in the 1972 Claudy bombing in which nine people lost their lives, said the parade taunted victims like her.
"The Parades Commission may have approved this parade, but they didn't approve for them to wear these paramilitary uniforms.
"I feel this is taunting the likes of me and other victims.
"We've suffered all our life, now this is like they're praising themselves for what they done. They're rubbing our noses in it when we're still grieving after 45 years," she said.
Her party colleague Tom Elliott has also questioned how the parade was allowed.
"I cannot understand how the Parades Commission and police come to decisions and appear to have one rule for perfectly law-abiding small parades going to attend a church service, while another for a parade and associated events that are designed to stoke up tension, including those with paramilitary-style clothing and hate-filled speeches," he said.
Addressing the 2,000 strong crowd, Paul Duffy spoke of those who fought in the 1916 Easter Rising whose objectives were to bring an end to British involvement in Ireland.
"These objectives have yet to be achieved," he said. "It remains an unfinished revolution. Comrades, we still have unfinished business."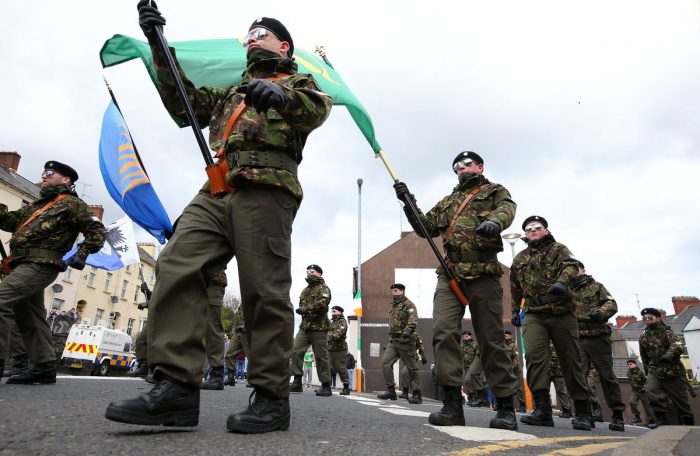 He continued: "Now is the time to get down to business … Now is the time to raise our game, to impact on the cosy narrative that permeates Irish politics.
"The demand for an alternative republican voice, properly resourced and focused on revolutionary goals has never been more in demand.
"Saoradh, the revolutionary republican socialist party can meet this demand.
"It has a cutting edge that will demonstrate its ability to shape the narrative of Irish politics. Among its ranks are many seasoned and experienced members."
He asked the crowd to "join with us in this honourable struggle that lies ahead" and "stand with us in our fight for freedom", adding:
"Freedom of Ireland can only be achieved when the demand for British withdrawal is placed centre stage.
"The time is now for such a demand to be loudly made."
Tags: