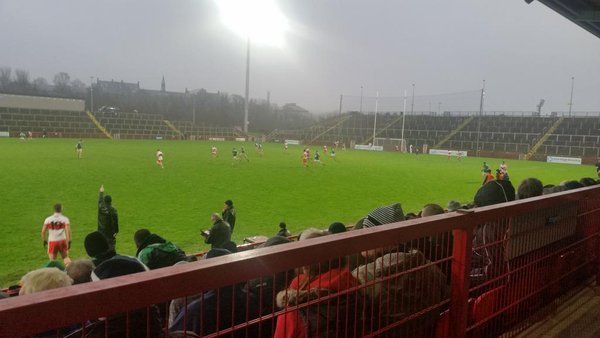 THE floodlights went on at a very wet and cold Celtic Park this afternoon and Derry shone in a top class second hand performance.
They Oakleafers were rampant in the second 35 minutes scoring two goals and eight points.
And as a measure their class, the Derry team kept Fermanagh at bay in the second half with the Ernemen only scoring three points compared to its 1-06 in the first 35 minutes.
Fermanagh won a free in the first minute of the second half and Tomas Corrigan converted increasing the Ernemen's lead 1-07 to 1-05.
Mark Lynch came on as a half time sub for Conor McAtamney and won a free as Derry went on the offensive.
James Kielt converted and it was a one point game.
And on 40 minutes Ryan Bell leveled it up again. Derry 1-07  Fermanagh 1-07.
There was another substitution for Derry as Mark Craig replaces Neil Forester on 43 minutes.
Derry pumped a high ball into the square and was broken by Mark Lynch and Cailean O'Boyle finds the net to put Derry three up. 2-07 to 1-07.
And then Derry start to hit a rich vein of form as March Lynch and Chrissy Bradley exchange passes, and the big Banagher man points.
Then Ryan Bell scored another point to put Derry five ahead.
There was another sub for Derry as Benny Heron made way for Shane Heavron.
On 55 minutes Emmett Bradley won a free after he broke from midfield. James Kielt pointed the free and Derry increased their lead: 2-10 to 1-07.
Two minutes later Mark Lynch pointed a free after a foul on McKinless and Derry's lead over the Ernmen hit seven points.
And just before the hour mark Emmett Bradley with his second monster score from the left handside of Celtic Park Derry leads increased to eight points.
Fermanagh get their only second point of the second half with a point from Sean Quigley and the gap is down to seven points.
After much discussion referee Marty Duffy instructed his umpires to wave the green flag. Derry 3-12 after a high ball from Chrissy Bradley is punched into the net by Mark Lynch.
Daniel McKinless replaced Emmett Bradley who put in a super shift in the middle of the park.
As the final whistle approached, As Tomas Corrigan scored another point for Fermanagh – only its third of the second half.
Another Derry sub and Joe Morgan replaced Gareth McKinless.
And Chrissy Bradley drover through the heart of the Fermanagh defence and rifles the ball over the bar to increase Derry's lead to 10 points.
The crowd total at Celtic Park today was 1,281.
Tags: