The Health Minister has been called on by a Derry MLA to ease the pressure on nursing staff and prevent them from coming under attack.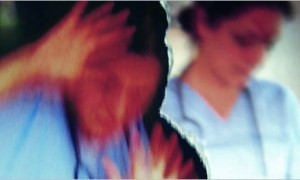 The call came from Sinn Fein's Maeve McLaughlin during a debate on nursing in the Assembly.
Ms McLaughlin, chairperson of the Stormont Health Committee, said while it was "well known" nursing staff were highly trained professionals who provided a "great service, their profession was being put under "more and more pressure" due to under-staffing and attacks on staff.
She said it was "important" Health Minister Nigel Poots took on board addressing the deficit in the number of nurses employed by the various Trusts and in shift patterns as it was proven people were more at risk at weekends.
She added: "Equally it is important that we send the message that we want to fix the pressures they endure by supporting them in putting measures in place that protect in their place of work.
"In a report by the Regulation and Quality Improvement Authority, it found that there were differences between hospitals in the availability of services, staff, policies and procedures, communication arrangements and access to information for patients."
Ms McLaughlin concluded: "They made 29 recommendations to improve the service and work practices of nurses and I would call on the Minister Edwin Poots to implement these recommendations as soon as possible."
Tags: